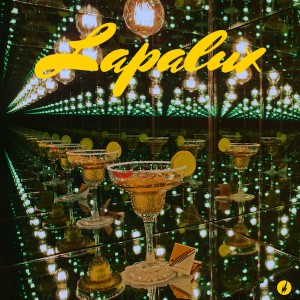 Release Date: April 7, 2015





Lustmore, the second album from Essex-based electronic musician Lapalux, is a sturdy, listenable album in the tradition of beat-heavy electronic music. Everything is meticulously arranged, and yet it too rarely feels like anything other than a expertly crafted retread of his contemporaries. The album is even interested in the same brand of skewed consciousness, going so far as to be loosely inspired by hypnagogia—an unfortunate case of subtext becoming text given that hypnagogia, the sensation of consciousness lapsing into sleep, has long been the buzz word for Lapalux's peers like Nosaj Thing and Flying Lotus. This staleness isn't only related to the elevator pitch for the album—there's far too often a sense that Lapalux is just refining the tropes of the sub-genre without adding his own spin.
Lapalux has an ear for adding punch to sounds and a clear eye for the now, evident through his appropriation of oozing R&B that recalls Arca's free-form work with FKA Twigs and Kelela. "Closure" and "Puzzle" edge the closest to this sound with their seesawing vocal arrangements and alternating queasy and lulling synth arrangements, but like the rest of the album, they feel like second-rate facsimiles rather than an attempt to push the genre forward. It's hard to knock reliability, but coming from a tradition of electronic music that consistently values the lack of a mold, it's a disappointment that Lapalux hits every single expected melodic and rhythmic convention.
Lustmore falls into the trap of the darker, more dour, and serious follow-up.  More than ever, the arrangements feel like stories threaded through music, and the imagery it conjures has never felt more vivid. But that imagery still traffics in the bone-deep melancholy and soft-focus wooziness that's been the vogue of every atmospheric electronic album since the rejuvenation of the sound on 2011's Drive soundtrack.
For practically the entire first half of the album, the music could serve as a soundtrack to an icy night drive with a distressing sameness.
The pattern emerges: begin with fog-shrouded synth intro, lead into garbled vocal sample, and climax with a stuttering hook.
"Midnight Peelers" finds a respite in streaming neon keyboards, and "We Lost" feels more human thanks to a more pronounced R&B-inflected vocal melody, but the album feels all too often devoid of the soulfulness and warmth that previously characterized Lapalux's music.
The cinematic feel certainly isn't incidental, as Lapalux has been vocal about the influence of film scores and their ability to seduce and tell emotional stories in the lead-up to the album. There are echoes of seminal film soundtracks here from the Morricone-esque electro of "1004" to Vangelis' amber beams shining through "Autumn." But too often this new approach feels meandering, forcing a more linear approach as opposed to the anything-goes wanderlust that characterized earlier recordings.
Lapalux's 2012 album, Nostalchic, whipped up a kaleidoscopic beat odyssey, as fluffy and fluid as cotton candy without the unwanted stomachache after. It didn't change the playing field, but it went down remarkably smoothly, precisely pitching its sound for a dense but immediately listenable experience.
In flashes, Lustmore displays its craft, but as a full experience, it's just repetitive and flat.
It's hard to shake the feeling that Lustmore's slickness is a placeholder for a more distinctive sound. More than most genres, beat-based electronic music that nods towards hip-hop, jazz, and R&B can start to sound very formulaic. Let's face it, J Dilla perfected it. In response, many in the genre have pushed to find a sound that's their own whether it's through crate-digging for lo-fi sounds, melding live instrumentation with synthetic sounds, or taking genre detours into world music.
Lapalux doesn't have this immediate hook. The album is heavily textured and effectively atmospheric, calibrating its snares to feel like body blows, and embedding richly polymorphic synth lines that sound both cosmopolitan and dystopic. That doesn't make up for the fact that the crushingly rigid "Push 'N Spun" or "Bud" would sound more distinctive in the hands of someone like Salva or Prefuse 73.
But the biggest ultimate problem is both the giant in the room and how crowded that room has become. Lapalux inevitably draws comparisons to peers like his label kingpin, the eminently monolithic Flying Lotus, who has shifted the beat-based landscape from blunted breakbeats to slippery jazz-fusion ragas and everything in between, and other artists like Shlohmo, who have made a beeline to the shadows, to the whole Friends of Friends roster, who dabble in everything from Chip Tune to deep house.
Lustmore is the sound of an artist who's boxed in between worries about legitimacy and staying current. It's neither expansive enough to extend to cosmic reaches like Flying Lotus, baldly emotional enough to compete with Baths, or as immediately head knocking like Star Slinger. It's elegant to a fault, hitting every beat with pinpoint precision, but no longer with a sense of the feel that should accompany that hit.
Lapalux – Lustmore tracklist:
"U Never Know (feat. Andreya Triana)"
"Sum Body"
"Closure (feat. Szjerdene)"
"Midnight Peelers"
"Push N' Spun"
"We Lost"
"Autumn (Tape Interlude)"
"Puzzle (feat. Andreya Triana)"
"Bud"
"Don't Mean A Thing"
"1004"
"Make Money"
"Funny Games"