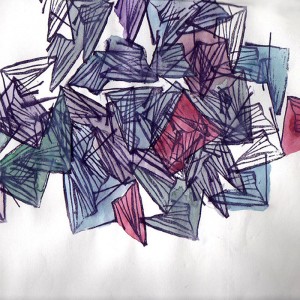 Release Date: July 15, 2014





Repetitive and atmospheric, Birmingham, Alabama threesome Wray, step out with their self-titled full length, hauling shoegaze with some teeth. Bassist and vocalist David Brown, guitarist and vocalist David Swatzell, and drummer Blake Wimberly teamed up with engineer Daniel Farris (St. Vincent, Man Or Astro-man?) to create their brand of "power-gaze," a plugging, guitar heavy take on background noise loaded with the energy of a rock show. With a power level nestled a couple notches above My Bloody Valentine and grooves borrowed from Faust, Wray is some mighty fine background music.
"Blood Moon" slowly fades in with churning rhythmic drumming and guitars. The instrumentals oscillate underneath hazy vocals only to erupt with an in-your-face solo. The escalation is unexpected but satisfying. Wray, as a whole, has the flavor of cool, understated atmospheric party music. However, that can't be said for "Bad Heart," the flattest song on the record. On this track, Wray experiments with guitar distortion and cranking up the volume, but the wall of sound isn't a compelling one.
"Bad Heart" evokes a realization — noise works best as background.
Wray is not a lyrics-driven album. The words often serve as a breathy accompaniment to the trio's crashing waves of sound. Brown is almost humming when he sings, "Standing tall/Standing tall/ It's a misgiving," in "Apacheria" and the words, "You're gonna be fine/ Yeah, you're gonna be fine/ And you know it," seem to fall out of his head without articulation in "Bad Heart." The majority of the vocals are drawn out and not completely intelligible. Despite this, it's apparent that the words, much like the rhythms and melodies, are repetitive — a trademark of Wray. The record is characterized by their guitar and drum heavy instrumentals while still maintaining the blurred repetition and tonal attributes of 80's post-punk shoegaze.
Wray has magical moments, such as "May 15." With largely dreamy guitar melody accompanied by a rumbling rhythm section, the song is over seven minutes of Wray at their finest. The downfall is the track's abrupt ending, which is a common problem throughout the record. Essentially every track concludes with non-ending dead-ends into silence as if the trio were in rehearsal and collectively agreed they needed to go back and play something over again, with just seconds of static or wind left behind. With such beautiful opening hooks and melodic lines, it's a shame that Wray can't figure out how to close.
They're the musical equivalent to the guy at the bar that seems great, but then gets too drunk to walk home without assistance.
That aside, Wray has more bright spots than poor moments. The Alabama natives have successfully merged the energy and appeal of rock music with the instrumentals and essence of shoegaze, creating "power-gaze." Whatever they want to call it, Wray builds a solid case for making "background" music the life of the party.
Wray – Wray tracklist:
"Blood Moon"
"Apacheria"
"Swells"
"May 15"
"Graved"
"Bad Heart"
"Relative"