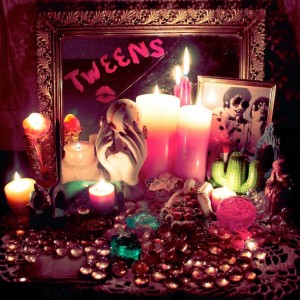 Release Date: April 8, 2014





"Your sweetness is killing me/Mean, mean/I want you to be mean/I want you to be mean to me," shouts Bridget Battle, frontwoman of trash-pop trio Tweens. "Be Mean" is from the Cincinnati threesome's precocious debut album with Frenchkiss Records. The self-titled full-length touts a collection of party jams oozing with teen melodrama and a whiney but tough sound.
Tweens, with Battle on vocals and guitar, Peyton Copes on bass, and Jerri Queen on drums, have toured with The Breeders and the Black Lips, and have honed in on their catchy, defiant tone. With punk-kissed pop songs about boys, wanting to stay out late, and crying in bathroom stalls, Tweens sounds like the girl band everyone wanted to start in high school.
Battle laments, "I'm too young to be this tired," in album opener "Bored in this City." It's a gateway into a world of mean boyfriends and having a curfew. Bay Area punks The Donnas, The Trashwomen, and the Bobbyteens are obvious influences in Tweens' fast, fuzzy, dirty beach rock. The record is earnest and punchy, track after track.
Tweens is propelled by Battle's take-no-prisoners persona.
A real man-eater on the whole, she plays several parts: the classic crush-ee ("Hardcore Boy"); the apathetic, unsentimental hook up ("Girlfriend"); and the bored, frustrated partner ("Be Mean") all with palpable honesty. It's every archetypal "girl" role, only with twice the edge.
Lyrics like, "Hey, hardcore boy/Oh boy/I don't want any other," in the jam "Hardcore Boy," and, "Hey momma, don't you wait up for me/Hey Momma, tonight is calling me," in "Don't Wait Up" hold up the group's irreverent but sincere perspective. Their teen-centered punk, despite not actually being tween-aged, isn't a gimmick. Rough and tumble, childish but not naïve, Tweens' debut record is like a fun walk through an old yearbook.
Taking a slower pace, "Stoner" is the album's instrumental interlude. The bass-heavy slow rocker speaks volumes despite not having any vocals, then picks up into a headbanger. It's essentially the background music for a teen-movie party montage. The noteworthy "Want U" stands out as the ballad of the album. It's a somber, doo-wop-influenced crawl propelled by Battle's sweet vocals, electronic fuzz, and guitar strums that reveals the softer side of Tweens.
Tweens' sound feels fun and familiar, like a former playmate's cooler, older sister. The record is energetic, messy, aggressive, and free—like how most hoped they'd remember their adolescence. Tweens provokes angsty teen nostalgia regardless of whether or not one has ever dated a boy with a motorcycle or gotten a tattoo without permission.
Tweens – Tweens tracklist:
"Bored in this City"
"McMicken"
"Be Mean"
"Rattle + Rollin'"
"Stoner"
"Don't Wait Up"
"Hardcore Boy"
"Girlfriend"
"Forever"
"Want U"
"Star Studder"