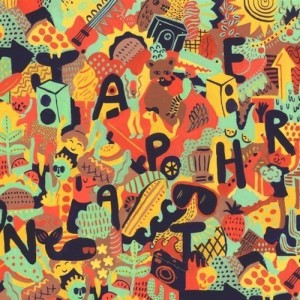 Release Date: April 15, 2014





Brooklyn noise rock duo Japanther stays true to its garbled roots on its new album Instant Money Magic.
The band has dug itself a well-defined hole by sticking to the same method of playing exceedingly fast with an excessive amount of feedback, obscuring any chance of understanding the messy, two-minute songs.
Japanther has a certain quirkiness about it that gives its music a little charm from time to time, but aside from that, it's a jumbled, incoherent mess. In fact, it's the same quirkiness found in another, more successful and talented Brooklyn electro-punk duo, Matt and Kim, who the band urged to start playing shows.
Despite Japanther's three-year head start on Matt and Kim, the former feels like a botched ghost of the latter.
Instant Money Magic consists of 14 rushed tracks totaling 24 minutes, never finding any sort of direction or variation from the old Japanther albums aside from even more fuzz, which in this case is a disastrous thing.
The album starts on one of the better songs it has to offer. "Wiggmann," though it is just as simple and indecipherable, is slower and catchier than some of the other tracks. A few lines are audible but have no meaning, and ironically, the word "miscommunication" sticks out from the mess, succinctly summing up the entire album.
The decent intro is destroyed by the second song, "Dreams Come True." The ghastly track is a delirious mess that has no discernable musicianship or lyrics aside from the repeated line, "Dreams come true." It's unclear at this point whether the band is trying at all or just recording itself destroying instruments and distorting a slurred, drunken ramble.
It only gets worse from here. The entire album is out of tune and reuses the same elements that made each preceding song unbearable, leading to a complete and utter mess of unlistenable clatter.
"Guns Guns Guns" is one of those disasters, having nothing new to offer the already failing album. The group's off-key vocals are painful to listen to and the amateur musicianship does it no justice. Each track sounds like a lesser version of one bad song on repeat.
It's hard to tell the difference between "Vicious" and "All We Got Is Each Other"—both have hideously mediocre guitar riffs and no listening value whatsoever.
The only noticeable change is the former's lack of irritating, single-note synth that mimics the vocal lines in "All We Got Is Each Other," which is a surprise, seeing as it plagues most of the album.
Japanther decided to use that same insufferable child's keyboard as a parodic backup singer for "Centralia, WA," another track that features the unbearable chorus of vocals drowning in distortion and boring bass and drum lines.
"Green Jug Intro" is the only song that remotely hints at the fact that both of these musicians attended the prestigious Pratt Institute in Brooklyn.
The mellow instrumental is short and straightforward, but it has a soothing calmness about it. Here, Japanther sounds more like Black Moth Super Rainbow than a regrettable waste of money.
The intriguing song is stifled by the following return to mediocrity on the last two tracks. The keyboard once again returns to its role as a monotonous backup vocalist, never straying from miming the same tired choir. At this point, the album is far past redemption and became boring long ago, which is saying a lot when you take into account the length of the release.
Even making it this far in the album is a challenge, and by this time expectations are for another failure. Japanther doesn't defy the precedent it's set along the way, as Instant Money Magic ends on another unmemorable track, "Green Juice."
At this time in its unbelievably long career, Japanther proves it still has nothing to offer. Its most recent unimaginative release is as mind-numbing as the rest of its material, though this might be the dullest one to date.
Japanther – Instant Money Magic tracklist:
"Wiggmann"
"Dreams Come True"
"Common Borne"
"Take Me In and Let Me Go"
"Breb Your Revel"
"Guns Guns Guns"
"Vicious"
"Do It (don't try)"
"Song Of The Sun"
"Centralia, WA"
"All We Got Is Each Other"
"Green Jug Intro"
"Onandoga"
"Green Juice"