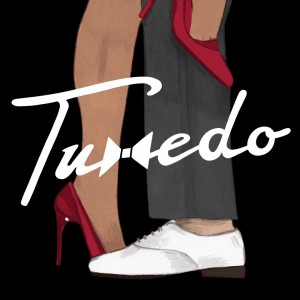 Release Date: March 3, 2015





Tuxedo is a new-ish collaborative project from Mayer Hawthorne and Jake One. Though its first album has just been released, the duo began quite some time ago, with a three track teaser release a few years back, attracting massive hype—even Pitbull sampled "Do It."
Tangling old-school influences with the two artists' individual sounds, the duo makes a funky neo-soul debut. Tuxedo's beats are catchy and peppy, and the whip-smart lyrics are an earworm. But even though those first three songs went viral, the full release reveals an inconsistent project with a few standout disco tracks, but others that are frustratingly thin.
"Lost lover, won't 'chu come back to me," serenades listeners on opening track, "Lost Lover," setting a sultry vibe for the rest of the album. While there is no denying Tuxedo's grooviness, the tracks often enter clichéd territory, as the duo hasn't solidified its creative stamp yet. "R U Ready" features a kitschy, fake laser sound, adding an element of tackiness. However, despite these eye-roll inducing bits, the album is so much fun that listeners might keep dancing anyway.
"Do It," the album's overly premature single, best captures the sensual groove Tuxedo is going for. The track is a modernized nod to '70s funk and disco. The song's originality shines through the structure of the track and the use of organic sounds. Listeners are used to hearing EDM beats and the like amidst the current electronic landscape. So, with Tuxedo, the progressive sound stands out in combination with its old-school influences. "Number One" also works as an update to a classic soul/funk sound that the duo made its own with a more contemporary use of synth.
Frustration with Tuxedo is found in how synthetically perfect the beats sound. On tracks such as "Two Wrongs," the instrumentals sound as though they were constructed on a laptop as opposed to actual drums, bass and guitar, as they would have been 40 years ago. The manufactured sound is disappointing; the duo could have followed through with live instruments. Records that mom and dad had back in the day still had a little roughness around the edges, even on studio tracks.
Tuxedo's sounds are so polished they may as well squeak.
While Tuxedo isn't a full-blown #tbt, it's on its way there, and the neo-soul grooves can carry listeners dancing in the night. With the popularity of D'Angelo, Robin Thicke, Jungle, and Pharrell lately, this album has a place in the current music scene. This project is somewhat timely as disco and soul are making a comeback. Some of the tracks are perfectly crafted, but others are shallow and safe; the album wasn't as stylistically nuanced as hoped.
Hawthorne and One are risk-free, with tracks such as "So Good" sounding like Soul Train ripoffs.
Tuxedo isn't all flawed, though—it has a sense of humor and a personality of its own. Hawthorne's independent work has a vibe similar to this album's, but his solo efforts are more substantive than the sound of Tuxedo. One is a beat maker whose tracks have a hip-hop throb with R&B's sensuality. Occasionally, it seems clear who is responsible for certain parts of a given track on Tuxedo; however, the distinct styles of each are lost when they try to make music of a very certain era. Tuxedo sounds more like a '70s replica than an original work. Still, the album is wicked fun, but it doesn't feel right listening to new works of an old era with timeless classics.
Tuxedo – Tuxedo tracklist:
"Lost Lover"
"R U Ready"
"Watch the Dance"
"So Good"
"Two Wrongs"
"Tuxedo Groove"
"I Got U"
"The Right Time"
"Roll Along"
"Get U Home"
"Do It"
"Number One"