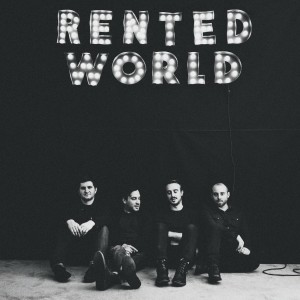 Release Date: April 22, 2014





The opening track, "I Don't Wanna Be An Asshole Anymore," says it all. The Menzingers are another year older and another year wiser with their fourth album, Rented World. The record is a solid follow-up to the much-lauded On the Impossible Past. It's crisp, thrashing, and a little melodramatic, but hey, quarter-life crises are tough.
While staying true to their "bands that say whoa" reputation, vocalist and guitarist Greg Barnett, vocalist and guitarist Tom May, bassist Eric Keen, and drummer Joe Godino admit they've done wrong on the aforementioned opener.
The Menzingers lament, "Whoa baby, baby, I'll be good to you/I don't wanna be an asshole anymore/…/I won't lie no more about where I've been/And I won't pry no more over the people that you're hanging with/…/I don't wanna be an asshole anymore." Their confession starts Rented World off with a bang.
The foursome from Scranton is remarkably vulnerable throughout the record.
They throw out lines like, "I want to chew up my dinner and spit it in your face" ("In Remission") and "I am only bad news, news for you" ("Rodent") in such quantities that they almost seem cavalier as opposed to Barnett and May dry-heaving emotional bile.
"When You Died" offers up sparse acoustic instrumentals and profoundly sad, thoughtful lyrics: "Where do people go when they die?/How do you keep them alive?/How do you make sure that something like this won't ever happen again?/Not to any other friends." The blunt songwriting throughout the record gets to the point. The Rust Belt punks have cut the gain and turned up the feeling.
Rented World is likely The Menzingers's most musically unshakeable record to date. Heavy breakdowns in tracks like "Sentimental Physics" are reminiscent of the heavier jams on Weezer's self-titled record, like "The Blue Album." A mesmerizing three-note guitar riff in "Where Your Heartache Exists" doesn't need to beg for attention because it grabs it immediately. The track exemplifies the record's cleaner sound in comparison to the Menzingers' previous work, as well as the foursome's self-aware and often self-deprecating edge.
A few years older and freshly ironed, the boys from Scranton seem to have been through a lot. Rented World is what the Menzingers sound like with ties on.
The Menzingers – Rented World tracklist:
"I Don't Wanna Be An Asshole Anymore"
"Bad Things"
"Rodent"
"Where You Heartache Exists"
"My Friend Kyle"
"Transient Love"
"The Talk"
"Nothing Feels Good Anymore"
"Hearts Unknown"
"In Remission"
"Sentimental Physics"
"When You Died"