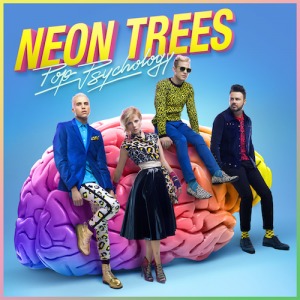 Release Date: April 22, 2014





It's no secret that Neon Trees are high among the rulers of modern pop rock. Between "Animal" (2010) and "Everybody Talks" (2012), the Utah quartet has been heavily played by radio stations and sought after for commercials since its breakthrough opening tour with The Killers in 2008.
Though the band rapidly gained attention following its official debut Habits, and still continues to bring in perpetually larger crowds, it's been on a disappointing musical decline since its initially unique take on pop rock.
Habits was fun and full of experimental guitar phrases, delivering a catchy set of enthralling songs that was game-changing for modern pop rock. Sadly, 2012's Picture Show didn't follow suit, losing the novel songwriting found on its past work and edging more toward unadorned melodies and simpler riffs.
It's clear, after the release of their third LP, Pop Psychology, that the visionary insight Neon Trees had starting out is now entirely gone.
The band that was once praised for bringing a new spark to a genre that's hard to break ground in has fully devolved to a sad shell of its former self, focusing entirely on puking out Top 40 hits.
The entire album is littered with obnoxious hand claps and repetitive vocal melodies, obviously cashing in on marketable kitsch and not what made them likable to begin with.
The '80s-inspired dance rhythms and riffs worked on Picture Show, so naturally they were emphasized tenfold on Pop Psychology. "Text Me In The Morning" starts with overused claps and a minimalistic guitar riff over an equally tired drum line. The chorus is even worse, not even attempting to hide that it plays off of "Everybody Talks." The shallow lyrics take the mediocre song down to a whole new level, proving Neon Trees has completely lost its roots.
The shift from engaging, prominent guitar parts to boring keyboard and bass sections is a major mistake, and one that absolutely kills the album.
In the band's earlier days, guitarist Chris Allen played a much larger role. His riffs controlled most of the songs, and rather than being used for subtle background noise and a few chords in the choruses, his playing sat alongside singer Tyler Glenn.
"Living In Another World," though it still falls far behind Habits, is one of the better songs thanks to Allen's larger role. Ironically, Glenn sings here, "Four chords and a beat keep me alive"—that's obviously the case on most of the album, but "Living In Another World" is almost the only song that goes beyond four chords and a beat. Allen also has a fantastic guitar solo in "First Things First," which is the only good part of that song, proving that leaving more room for Allen's guitar to shine would have vastly improved the album.
That's the feel for the majority of Pop Psychology: It could have been done better.
Neon Trees' track record shows skill, but it feels like the group is holding back in an attempt to be more appealing to the masses. "Unavoidable" brings in drummer Elaine Bradley on backup vocals for her second duet to date, which is an interesting change of pace, since she and Glenn have compatible voices, but the song flops because of its unimaginable musicianship and repetitive feel. Even "Sleeping With A Friend," the album's first single, is dull and colorless, losing itself in a techno haze when it could have sounded better as a rock song.
The only genuinely good song is "Voices In The Hall," which is the only one that ties in to the album title inspired by Glenn's therapy sessions following the 2012 tour for Picture Show. The lyrics are mournful and Glenn sounds passionate as he sings about a lost lover who he claims is still not gone. The synth is used well for once, creating a distant, nostalgic feeling. It's almost solely Glenn and a moody keyboard, making for an emotional ride when he claims, "Every night when I'm alone, I can hear your voices in the halls."
Pop Psychology is decently catchy, but is sacrifices vital elements that made Neon Trees' past work listenable in exchange for more repetitive, simple songs that might get more radio play. Old fans will be stuck saying the painfully truthful line from "I Love You (But I Hate Your Friends)": "They never like the music, they bitch about how cool it used to be."
How cool it used to be, indeed. It's been a fun ride, but this looks like the death of one of pop rock's most promising bands.
Neon Trees – Pop Psychology tracklist:
"Love in the 21st Century"
"Text Me in the Morning"
"Sleeping with a Friend"
"Teenager In Love"
"I Love You (But I Hate Your Friends)"
"Unavoidable"
"Voices in the Hall"
"Foolish Behavior"
"Living In Another World"
"First Things First"