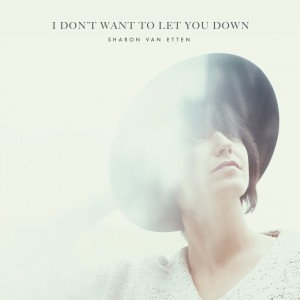 Release Date: June 9, 2015





No one knows the struggles of the heart quite like Sharon Van Etten. With each new record, her emotionally-fueled songs are lauded for their honesty and sincerity. Four albums into her career, her folksy music is garnering more attention than ever (her last album was named one of the best albums of the year by Rolling Stone).
With her new EP, I Don't Want to Let You Down, Van Etten travels through the confusions of life in five songs tinged with the heaviness of emotion. Conceding to feelings of disappointment, yearning, and acceptance, I Don't Want to Let You Down is like an open diary, reminding listeners they're not alone.
When Van Etten's crooning voice starts up in the album's eponymous track, "I Don't Want to Let You Down," it's one of feeling and empathy. Van Etten's signature emotive voice is one of her strengths, and it doesn't disappoint throughout the album. Her voice supports her lyrics, carrying them to a place of honesty. As she repeats the words, "I don't want to let you down," we somehow understand the pain she's going through, perhaps because she's not the only one to have experienced defeat. Despite the melancholic undertones, the song is the most upbeat of the album, with a rollicking mid-tempo beat and an understated electric guitar solo at the end. Like the majority of her music, the tune has a rustic, folksy quality to it—a style that couldn't be better suited for Van Etten's husky voice.
These aren't happy-go-lucky songs; they're sullen, drinking-a-bottle-of-wine-by-yourself at night while it's raining songs.
But that's what Van Etten does so well—she knows how to make music that reaches out and touches listeners—music that speaks to them in a kind, comforting way. Like Cat Power and other moody crooners, Van Etten's music assures listeners they're not solo in their personal troubles.
That sensibility is felt in the track "I Always Fall Apart." Set against a piano, moving violin, and subdued bass in the background, Van Etten sings about her flaws—or, rather, the facets that make her human. In the chorus, she sings, "You know it's always been my heart/You know I always fall apart/It's not my fault, it's just my flaw/It's who I am." Although the title of the track refers to a mess of emotions, Van Etten seems to know herself well; she recognizes that darker emotions are difficult to feel, but it's good to have them.
Pulsing with raw, open feelings, Van Etten's voice and lyrics are the stars of her new EP, I Don't Want to Let You Down. Encouraging and nurturing, it's as if she wants listeners to know that it's good to open up and feel.
Sharon Van Etten – I Don't Want to Let You Down tracklist:
"I Don't Want to Let You Down"
"Just Like Blood"
"I Always Fall Apart"
"Pay My Debts"
"Tell Me [Live]"