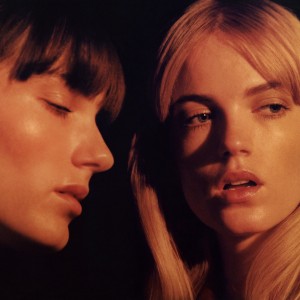 Release Date: April 6, 2015





Sisters Miranda and Elektra Kilbey are Say Lou Lou, a disco-pop duo with an edgy, dark sound. The band's new album Lucid Dreaming is wily and seductive, experimenting with noir sound to create an alien, retro atmosphere. It is, as the title suggests, very dreamy pop music—even the sad songs sound happy, and the happy songs sound sad. The project has a Scandinavian, Lykke Li-esque sound, which gives the album its characteristic edge. The distinct contrast between upbeat, joyous songs, and slower, downcast songs defines the album.
The music Say Lou Lou makes is so clear and original that it can't be filed away under a category. Lyrical content distinctly outlines an origin—an older sister-younger sister dynamic that created the band's persona and sound. Sibling rivalry is at play in the music here, along with the isolation that it can create.
Alienation is a major theme of Say Lou Lou's music, which details an increasing gap between these twin sisters. Lucid Dreaming tracks the time the Kilbey sisters spent reconnecting through their shared love of music. There is a definite give and take in Lucid Dreaming—happy song, sad song, Miranda, Elektra—each contrast is tasteful. The distinguished opposites are meant to highlight each twins' talent, not further divide them from each other.
This noir sound is versatile, capable of sounding both chipper and woeful—something that is very difficult to achieve in pop music.
This is sad pop music, like Sky Ferreira or CHVRCHES. It's glossy, easy listening, but the lyrical content is where Lucid Dreaming really shines. Upbeat songs like, "Games for Girls," are part of a polarizing spectrum of elated and introspective songs. Songs like "Glitter" are casted with a darker atmosphere, like Lana del Rey. Say Lou Lou realizes the emotional spectrum of its album. Elektra explains it for the listener in a press release: "Some of them are sad but sound super positive. 'Nothing But A Heartbeat' sounds ecstatic but the lyrics are about hitting rock bottom."
The more downcast songs are where Say Lou Lou begins to command the listener's attention. An aggressive Crystal Castles influence—intentional or otherwise—is succinct enough to draw comparison. The saccharine, sonically glossy sound never borders on over-production. It's the perfect balance of pop and ennui, a palatable album with familiar, sisterly lyrics. Each song is a letter, sister-to-sister, about hardships or happy memories. The diary-esque quality of the work is similar to Marina & The Diamonds. It's still classic pop music, just with a new noir twist. Despite the sadder songs, the music always maintains a sense of hope—no matter how small.
Say Lou Lou has perfected the balance between over and under production. The grimmer elements of the music add an air of mystery, almost akin to the swirling trance music of Cocteau Twins. The balanced production leans toward an ecstatic sound to "bummer pop," tilting back and forth between them like a see-saw of pop music. Not many bands could pull off such an outlandish, eccentric genre of music—disco-pop, noir-pop, or any other buzzword fails to succinctly gauge the emotional impact of Say Lou Lou's Lucid Dreaming.
Say Lou Lou – Lucid Dreaming tracklist:
"Everything We Touch"
"Glitter"
"Games For Girls x Lindstrom"
"Julian"
"Angels (Above Me)"
"Peppermint"
"Beloved"
"Hard For A Man"
"Wilder Than The Wind"
"Nothing But A Heartbeat"
"Skylights"