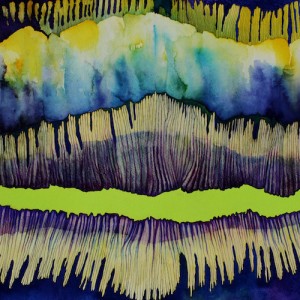 Release Date: January 21, 2014





Hailing from a small town in southern France, Morgan Manifacier arrived in the US a few years ago to study music in California.
Now, two years after his critically-acclaimed debut Grande, Manifacier is back with his appropriately-titled sophomore attempt Hues and Calm.
"Calm" is the perfect word to describe Manifacier's newest LP. Using only his tranquil voice, an acoustic guitar, and a bit of drums and cello (courtesy of Matt Camgros and Sarah Hawley-Snow, respectively), Manifacier crafts a colorful, relaxed, otherworldly ambiance that is addictive from the get-go.
Manificier expertly plays on the same sounds that make Iron & Wine and Bon Iver so appealing: the stripped down, raw music and lyrics that really hit home emotionally.
Hues and Calm is in that same category, tugging on the heart strings through the natural awe of heartfelt folk songs blended with melancholy tenderness.
The album starts with the eerie, experimental "Cold Countries." It's one of the most avant-garde tracks on the LP, toying with vocal layering and effects as well as a somewhat off-putting melodies. It's an interesting way to lead into the pleasant, calming tunes that follow, but nonetheless shows the range and variety Manifacier and company are capable of.
The next few songs are where the album picks up, so to speak, in quality if not in tone. From here on out, the album is an intoxicating, placid, beautiful work of art. Hues and Calm is the perfect album to sit back and melt away to. Songs like the gorgeous "My Own;" the rejuvenating, monumental "Ourselves;" and the warm, embracing "Busy Boy" all hit on a different level than most music. It's hard to come by so much beauty in a single album.
There are no poor moments on Hues and Calm whatsoever; all of the songs are comforting and full of life. It continually gets more inspiring and impassioned as it goes along, hitting a high point at the piano ballad "Faithful & Brave."
Manifacier experiments once again with the same vocal techniques he used on "Cold Countries," adding a ghostly feel to the elegant display of musicianship by the pianist, which is the highlight of the track. Camgros comes in toward the end with chaotic tapping on his snare to heighten the emotional tension of the song, making it all the better as it comes to a close.
Just when you thought Manifacier couldn't write more beautifully, he does.
"The Bridge" and "Oh Joie" are two ravishing  songs that finish off Hues and Calm, both sung in French, though the latter is largely instrumental. The two tracks have a hypnotizing effect that make the language barrier irrelevant. The emotion and passion are more apparent than ever, as is the swelling feeling that each track evokes.
Whether you're in need of music to help cope with a rough situation or just need a perfect rainy day album, look no further. It's been a while since such a lovely album has been released. Hues and Calm drips with emotion and fantastic musicianship; it mellows and entrances the listener with captivating songwriting and an intricate atmosphere all its own. Manifacier is starting the new year off right with some incredible, stunningly beautiful music.
Morgan Manifacier – Hues and Calm tracklist:
"Cold Countries"
"My Own"
"Mother, Mother"
"From My Mouth"
"Ourselves"
"Busy Boy"
"Faithful & Brave"
"The Bridge"
"Oh Joie"