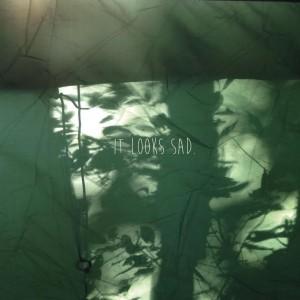 Release Date: August 5, 2014





Whether it's a weathered band releasing a stopgap release between proper LPs, or a new band trying to get its name out, EPs serve as a thankless option. More so than a full-length LP, an EP needs to be a mission statement—an encapsulation of the sound, ethos, and even the personalities of individual band members.
Promising North Carolina four-piece, It Looks Sad.'s new self-titled EP showcases a band that can't decide whether it wants to worship at the altar of its influences or sculpt a new direction for shimmering indie rock. There's a band here that isn't afraid to cross genre boundaries and change how jangly, reverb-heavy indie rock is viewed, but It Looks Sad. is trapped by a fealty to tradition, resembling the countless bands over the past few years with "beach" in the name.
Released on blossoming North Carolina imprint, Tiny Engines, It Looks Sad. doesn't cleanly align with anthemic emo bands like The Hotelier and Somos that define the label. Though Tiny Engines has become one of the satellite labels of the so-called emo revival, It Looks Sad. prefers the glassy, bleached sounds of bands like Real Estate and The Drums to the jaggedly pretty harmonies of Braid or American Football.
A dozen bands pop up weekly with spindly guitars and cavernous bass, but It Looks Sad. is too ambitious to intentionally settle as another reverb-drenched beach band. The self-titled EP has a slapdash quality and is undeniably the work of a band finding its voice, but It Looks Sad. has already found its way to sharply luminous guitar lines and more significantly, lyrics that anchor a heaviness to familiar material.
Speaking to North Carolina-based entertainment site Creative Loafing, singer Will Turner admitted opening track "Radical" was hurriedly written to fill an opening set for Cursive's Tim Kasher.
The news is surprising, as "Radical" is the most structurally thoughtful track on this set.
Beginning with pleasantly placid strumming and a gliding harmony, "Radical" defines itself during a unexpected bridge. Drums and guitars double into a joyful battle cry and singer Jimmy Turner not only ignores the songs lilting vocal melody up until that point, but also upends it to lead into a galloping ending, foreshadowing a far more adventurous band. Throughout the EP are glimpses of a band that doesn't stoop to cliches of the genre. Whether it's abruptly changing tempos, adding post-hardcore harmonies, or detouring into chaotic bridges, these moments are the most thrilling of the album.
"Fingers" is more contemplative, a slyly anxious story of romantic butterflies and accompanying goosebumps.
Submerged in murky reverb, "Fingers" jerks from hesitant fingerpicking to cascading riffing, echoing the lyric's ambiguity between reality and a dream state. Turner sings, "I tell you all the time/I felt your fingers touch my skin." The song overstays its welcome by a good minute, but it also successfully creates an edgy tone in ways that surpass the band's peers.
Ending track "Ocean" mirrors the nocturnal energy of "Fingers" with a loud/soft/loud dynamic. Beginning with a calmly swirling riff before a crashing post-punk chorus and screamed vocals, "Ocean" is a window into a more unpredictable and visceral version of the band.
It Looks Sad. too often resembles its influences.
Turner and the band bring a sense of immediacy to the album when it threatens to dissipate into rudderless strumming, but ultimately it all lacks shape, or is specifically too shapely. Unlike the geometric noodling of Real Estate or the pointillist bass lines of Beach Fossils, It Looks Sad. is at its best when they're subverting the usual tidiness and order of the genre.
The most exciting parts of It Looks Sad.'s EP have nothing to do with the band's faithful emulation of the assumed sound of indie rock. These rare thrilling moments occur when the band disregards expectations and melds the coiled tightness of its influences with its own untethered acidity.
It Looks Sad. – Self-titled tracklist:
"Radical"
"Fingers"
"Raccoon"
"Ocean"