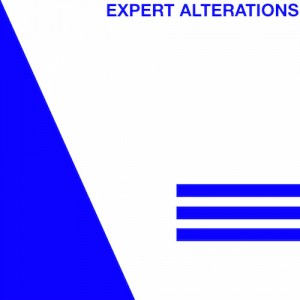 Release Date: June 1, 2015





Expert Alterations' self-titled EP became so popular when it was released in the summer of 2014 that it's now been pressed as a cassette three batches over—an interesting and very old school choice. Though Expert Alterations is from Baltimore, Maryland, its music seems to be heavily influenced by UK pop music, similar to bands like The Fall, The Jesus and Mary Chain, and Buzzcocks, a band Expert Alterations opened up for in April.
The band pulls things like fuzzy, noisy guitars and consistent drumming from its influences, thus bringing this once-popular UK sound into the present. Using these techniques, Expert Alterations crams everything it knows into five perfect, but unconventional, pop songs. But this doesn't mean listeners should brush it off after a first listen—Expert Alterations is a band that would be quite hard to forget about.
One of Expert Alterations' main influences is '70s pop band The Fall, and those influences run rampant throughout the EP, most notably in the vocals. Expert Alterations singer Patrick borrows a lot of techniques from The Fall's vocalist Mark E. Smith, mumble and all. Patrick's voice is monotone and soft, which can sometimes be overpowered by the music.
Perhaps it's the word association, but "Midnight Garden" is extremely reminiscent of Siouxsie And The Banshees' "Hong Kong Garden." The guitars are happy and jangly, and the drums even push the song forward with a long drumroll that eventually ends the song. Expert Alterations somehow transported itself into the era of music it loves. "Midnight Garden" could have easily been an alternative hit in the late '70s or early '80s.
"A Bell" is the EP's fan favorite, and understandably so. It has a surf rock element, especially in the guitar work: fast, loud, and driven. A catchy solo near the end of the song works its way up and down the fret board, and the reverb is heavy and welcomed. The drums are simple and fast; they'll make people in a (goth or punk) bar get up and dance.
Regardless of Expert Alterations' intentions as a band or song subject matter, its music is perfect to liven up a party.
Despite its hype aesthetic, the album seems to falter when it comes to dynamics. Sure, many of the bands that have influenced Expert Alterations have similar elements: fast drumming, loud guitars, murmured vocals. Still, Expert Alterations has plenty of space to make this genre its own.
"Venetian Blinds" explains this hindrance well with its long and repetitive nature. Expert Alterations has a lot of strengths as a band, but its music sometimes too easily blends in with bands that are striving for the same kind of sound.
Expert Alterations is bringing back a sound that originated on a completely different continent, a feat that is hard to argue with. It's a young band with limited expectations and the promise of a long and successful career due to its clear vision and direction. Expert Alterations isn't going anywhere.
Expert Alterations – Expert Alterations tracklist:
"Venetian Blinds"
"A Bell"
"Midnight Garden"
"Memory Glands"
"Three Signs"