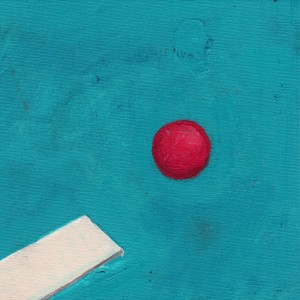 Release Date: February 24, 2015





With three albums behind it, British art-pop quintet Dutch Uncles has established its upbeat, sun-washed sound and produced its most direct, relatable album to date. On its fourth LP O Shudder, the band accesses the lighthearted, catchy sounds of '80s pop with super-compressed drums, falsetto vocal hooks, and a multitude of synth sounds. Singer/keyboardist Duncan Wallis both strengthens the '80s effect and takes it in a new, futuristic direction by combining ear-worm melodies with the smooth quiver of classic R&B. With varied lyrical subjects and songs that possess true character, Dutch Uncles' O Shudder illuminates and emphasizes the danceability and emotional breadth of '80s pop with a unique, indie spark.
Dutch Uncles covers a variety of lyrical topics with a healthy balance of sexually-charged pop numbers and quarter-life contemplations of identity. Flashy opener "Babymaking" fades in with bubbly electronic bleeping and Wallis' breathy, tenor croon before bursting into a cool, seductive pulse. The song's lyrics gyrate around the line, "It's alright if you don't know/that you need my babymakin'."
Contrastingly, the moody "Tidal Weight" lingers at the tail end of O Shudder with a grim piano foundation and palm-muted lead lines from guitarists Daniel Spedding and Pete Broadhead. The lyrics see a narrator mulling over maturity, opening the first verse with, "You won't believe it/I'm getting wise to my livin'/and my memories feel a bit cheated/There's no solids in the uncertain lies." The variety of lyrical topics on O Shudder grasps listeners' attention firmly, if only because of the stark contrast between them.
While its subjects are captivatingly colorful, O Shudder's greatest strength lies in songs that possess indelible character and make lasting impressions on listeners.
Wedged between giddy pop numbers, "Drips" drifts slowly but early into the tracklist, a bold move by Dutch Uncles that pays off well. The track stands out for its marriage of woodwind sounds and palm-muted lead guitar lines in the intro. The rare lightness of the combination creates a soft soil for the strong, drawn-out notes Wallis grows out of it. Drummer Andy Proudfoot's compound rhythms gradually add intensity, making for a bold, unforgettable song.
On "I Should Have Read," a clean piano takes the lead for the first time on O Shudder. Continuing the sunshiny mood, the song coasts in a good way, creating a sense of comfort for listeners by consistently repeating its carefree piano hook. Its melancholy lyrics chronicle the narrator's search for knowledge and how it consumes his social life, as he sings, "Don't want to die in search of why/I'll get no telephone calls/It's no discussion here at all." By combining pleasant riffs and thoughtful lyrics, "I Should Have Read" slips through the same psychological trapdoor as the Red Hot Chili Peppers' classic "Under the Bridge." These tracks lull listeners into a relaxed vulnerability and then melt them with heartbreaking loneliness.
Unfortunately, unique song ideas alone cannot support a full-length LP. "Decided Knowledge" separates itself with jangly, loose guitar strums, but its half-hearted vocal melodies quickly run out of steam. Lackluster single "In n Out" also relies heavily on a subpar hook, losing what little flare it has after the first of four choruses. The songs coast on a summery atmosphere, but become over-confident and ultimately overstay their welcome.
Though a few screws appear loose, the quintet delivers memorable pop tunes marked with its own hybrid brand of indie art-pop and '80s throwback worship. O Shudder closes with "Be Right Back," a hasty number hurried by an upbeat drum pattern. Despite Dutch Uncles' race to the finish, bassist Robin Richards steadies the pace with thick undertones, resulting in a chilled-but-poppy anthem that brings O Shudder to an aptly catchy, finger-snapping conclusion.
Dutch Uncles – O Shudder tracklist:
"Babymaking"
"Upsilon"
"Drips"
"Decided Knowledget"
"I Should Have Read"
"In n Out"
"Given Thing"
"Don't Sit Back (Frankie Said)"
"Accelerate"
"Tidal Weight"
"Be Right Back"