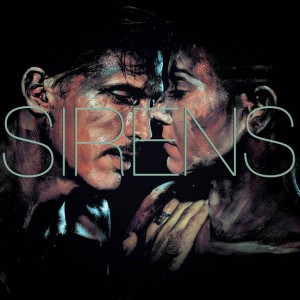 Release Date: March 4, 2014





"I stayed as true to the course as I could, but the sirens are hard to ignore/Once you open up to the song, you'll go down, down, down before long," begins Sirens, DA & The Jones' debut album.
Singers and songwriters Daniel Ahearn and Mindy Jones follow-up their ELECTRIC LOVE EP with an endeavor produced by Mocky Recordings (Feist, Peaches). The album is stripped down and simplified in comparison, and airs more on the side of traditional folk than their previous electronic-pop-folk fusion.
The duo that met by chance in Los Angeles found that they shared a deep connection and have created Sirens, a beautiful collection of modern folk songs for falling in and out of love.
"Sirens," the opening duet, croons, "I've got a bad heart/Got a mean streak/Good way of leaving you weak/Got time to kill/But time don't equal love/It just reminds you of the water," accompanied by Jones' hums, a simple piano progression, and a sea of horns.
The "sirens" of the album are not confined to mythical creatures calling to sailors, seducing them into crashing into the rocks—rather, any of life's temptations that offer pleasure but ultimately lead to a classic, disastrous end.
The sirens are distractions that drag souls downward, and that concept is the backdrop of the album.
Sirens isn't about a single couple, and a number of characters come into play throughout. Tongue-in-cheek apologies flow throughout the fourth track, "I Owe You." The breezy song about a girl who commandeers and sells all of her lover's stuff because she "needed the money more than I needed you" primarily features Jones, her breathy, feminine vocals repeating, "I owe you."
"Take Me Home" stands out as the most experimental track on Sirens. It's darker than its surrounding tracks, opening with a low drone and staticy bass beat with DA & The Jones' crisp, clear vocals floating over them.
The song dissolves into a slow-rolling breakdown featuring fuzzy jazz, gospel, and other singers performing a chorus of, "Take me home" that fades to nothing. It's clearly the most interesting track on Sirens, but it feels out of place among the more traditional folk songs that dominate the album.
While most tracks place an emphasis on heartbreak, that's not to say that some aren't lighthearted. The closer, "Crazy Along the Way" is reminiscent of traditional folk songs with a melodic line borrowed from Billy Joel. It's a chipper story: "Born and raised in the USA/Father left my mother the American way/A breaking heart makes a horrible sound/What goes around, comes around." "Crazy Along the Way" tracks the ups and downs of love and relationships, with a chorus of, "We all go a little crazy along the way."
The album moves and feels like it's a living creature, with an effervescence breathed into it by Ahearn and Jones and their effortless vocal harmonies. They stretch the boundaries of folk, infusing their pension for electronics, while still ringing true to classic Americana. Despite its emphasis on loss and heartbreak in its various forms, DA & The Jones is a musical match made in heaven.
DA & The Jones – Sirens tracklist:
"Sirens"
"Doubt My Love"
"Could've Had It All"
"I Owe You"
"If Only It Could Be"
"Love Lights the Way"
"Make it Right"
"Undone"
"Take Me Home"
"Crazy Along the Way"