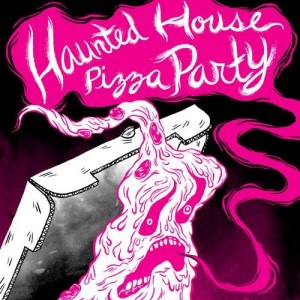 Release Date: March 8, 2014





Haunted House Pizza Party is a blitzkrieg of an EP, standing at five songs and just short of ten minutes.
But don't just play it as a one off; Absolutely Not has crafted a short introduction to its potential, and in the allotted time, has proved its prowess. Absolutely Not's penchant for groove-infused lo-fi is a force of grungy goodness, flowing through short, to-the-point songs that are as fierce as they are fun.
Haunted House Pizza Party revels in being snotty to the point of amusement ("You better check your money, 'cause you're bleeding out"), as Absolutely Not's frontman Donnie Moore follows up on last year's Mister Something with an EP/casette whose mockingly short length leaves the listener yearning for more.
Weakest among the pack is opener "Bleeding Out," whose Auerbachian bass drive, spaced groove, and repeated cooing is a misleading introduction to a much fuller and harder-sounding release. Once that's out of the way, though, Haunted House Pizza Party blossoms in a haze of rhythmic, grimy grandeur, where bratty, strutting lyrics break through the static onto a plate of glam and punk garage rock.
The EP's standout track, "A Hole in Yer Heart," begins with the hilariously flippant threat, "You wanna taste blood, bitch?" and pushes through with a screeching lead guitar and frantic chorus.
The remaining three tracks follow suit, as high-tempo punk- and hardcore-infused garage rock fights its way through the speakers.
"Haunted House Pizza Party" and "West Coast Sluts" are more straightforward than "Medicine Man," whose intro, which is almost kitschy in its execution, fully forms into one of the best instrumental breakdowns on the EP, complete with frenetic pace and a climactic crescendo of sound and emotion that would fit equally well on a Bloc Party or Fucked Up track.
Absolutely Not is able to bring its own elements of pop to a relatively solid grasp of garage and glam punk. This formula for punk has become, in the past year or so, one of the most effective and popular veins of the genre, with bands like Perfect Pussy, and perhaps even Speedy Ortiz, bringing it to a head.
That bunch includes Massachusetts' own Potty Mouth, whose latest release Hell Bent, while sonically different from Haunted House Pizza Party, still seems to occupy the same emotive place. Perhaps a bit more theatrical than the rest of the bunch, Absolutely Not still fits into this fold of up-and-comers. With an EP like Haunted House Pizza Party in its arsenal, an outing at SXSW or a productive summer tour can do wonders for this Chicagoland standout.
Absolutely Not – Haunted House Pizza Party tracklist:
"Bleeding Out"
"A Hole in Yer Heart"
"Haunted House Pizza Party"
"Medicine Man"
"West Coast Sluts"