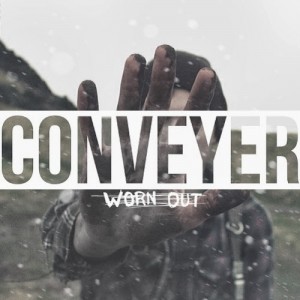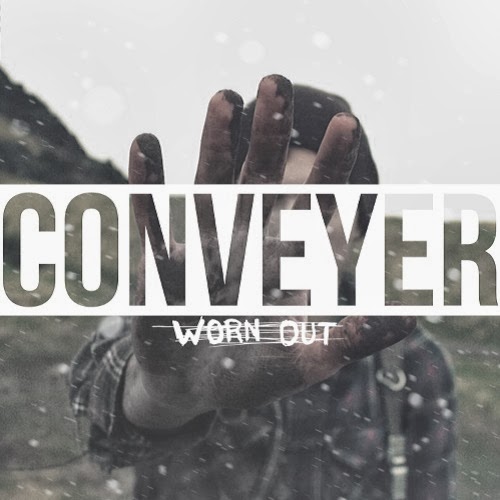 Release Date: December 31, 2013





"Selfish men die with empty hands" is just one of the message-heavy lines from spirit-filled hardcore band, Conveyer. Contrary to what the title Worn Out suggests, the Wisconsin fivesome is full of energy on its debut full-length album.
Composed of singer/guitarist Ty Brooks, drummer Bryan Malony, guitarist Jake Haag, bassist Ben Greene, and vocalist Carter Daniels, the aptly named Conveyer formed in late 2010 with a message to spread. The nine-track Worn Out is a melodic, hardcore overture about a man with an existential crisis that becomes a crisis of faith.
The group creates a harsh, aggressive wall of sound using fast drumming and loud, muddled riffs intercut with high, soft guitar melodies that break through the din.
Worn Out subverts some of hardcore's conventions, adding a more complex and digestible layer to its sound.
The first track, "What's Inside," is a drum-heavy, head-banging kick-off that leads into the heavy "Nothing," followed by the static-filled title track, "Worn Out."
"Give it up; give up the life you planned," Brooks screams over drum rolls. "Worn Out" is angry and energetic, giving a sense of being fed up as opposed to beaten down. For a change of pace, the album includes "Motions," a two-minute, melodic guitar interlude that marks a shift in tone for Worn Out, moving from songs about an individual's frustration and disillusionment toward the album's real message: spiritual enlightenment.
Conveyer, with passion and honesty as guiding principals for its music, brings in themes like eschewing worldly possessions, finding purpose in one's life, and figuring out what matters. The title doesn't describe the band's state of being, but rather its old way of living, which needs to make a 180.
The way for this group is toward God—perhaps an odd mix with its hardcore attitude, but one that doesn't seem out of place. "Everything that You are is everything I strive to be," is cried out in "Patience," but this is one of few direct references to God.
Unlike many faith-based groups, Conveyer succeeds in avoiding prosthelytizing or being too heavy-handed with religious imagery. It is, first and foremost, a hardcore band with spiritual motivations, as opposed to a Christian rock band attempting to act tougher than it is.
Conveyer is as far from gospel as Christian music gets, and is more closely related to As I Lay Dying's metalcore than the light rock of Relient K.
"Motions" excluded, Worn Out is a screaming, body-shaking rampage. Reverend Shaw Moore of 1984's Footloose would most certainly not approve.
The final track, "Resist/Admit," features a soaring, high-pitched, tremolo guitar picking and concludes with the line, "Please forgive me for all that I've done/I'm defeated; a shameful son/Just give me grace and hear my call/I'm sorry. I'm sorry. I'm sorry." Worn Out grapples with a crisis of an individual who seeks forgiveness and a greater sense of meaning in life. The closing track is repentant, bringing a sense of closure and fulfillment to the questions posed throughout the album.
Overall, Worn Out packs some powerful sound with a spiritual punch. It's unlikely that the album will spurn a mass of conversions, but Conveyer has stayed true to its name and sent its message with a solid hardcore album.
Conveyer – Worn Out tracklist:
"What's Inside"
"Nothing"
"Worn Out"
"Captive"
"Surrendering"
"Motions"
"Patience"
"Disconnected"
"Resist/Admit"