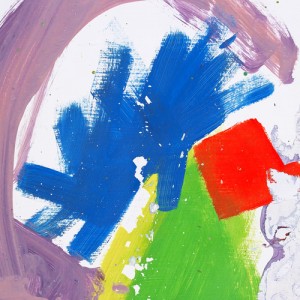 Release Date: September 22, 2014





British experimental indie rock band Alt-J has succeeded in generating a cyclone of anticipation around This Is All Yours by releasing three powerful songs as a preview. These teaser tracks, "Every Other Freckle," "Left Hand Free," and "Hunger Of The Pine," are thick with the type of energy found on the band's Mercury Music prize-winning first album An Awesome Wave. However, listeners may find themselves wanting and expecting more as they fully tear into the band's imperceptible, mild, and somewhat muted second album.
Completing the album without bassist Gwil Sainsbury, the trio successfully spreads an ominous coating of its dark sound evenly over the album; each song rings with the band's familiar haunting tones and experimental rhythms. Heavy use of minor guitar chords and chilling, harmonious vocals from lead singer Joe Newman are a reminder of how easily the band is able to smoothly fling itself across a unique sound spectrum to entice listeners.

Unfortunately, the only songs that really pack the kind of upbeat punch Alt-J mastered on its first album are the ones released as singles, leaving the rest of This Is All Yours to be swept into the dustpan.
It's obvious Alt-J has taken a more refined production route than in the past, but confusion arises when certain songs, like "Choice Kingdom" and "Pusher," are hushed to the point the volume is put into question—is the song even playing? "Leaving Nara" actually holds complete silence during the entire last minute. Any of the more reclusive songs on the album might be used as a lullaby to rock a baby to sleep; it seems Alt-J is intentionally holding back the volume for a gentle feel.
In addition to faint instrumentation, the album's lyrics are hardly decipherable. Although Newman is known for his style of mutter-singing his own half-formulated language, it isn't clearly stressed on this album, nor would it be enough to make those dustpan songs catchy. However, in the few grabbing singles, Newman and his bandmates deliver lyrics as intricate and relevant as ever before.
One of the darkest songs of the album, "Hunger Of The Pine," includes lines from French poet Alfred de Musset's poem "L'espoir en Dieu (Hope in God)" during the refrain, "Une immense espérance a traversé la terre/Une immense espérance a traversé ma peur," which translates to "A great hope has traversed the earth/A great hope has crossed my fear." The depth of these lyrics further acknowledge and praise Alt-J's habitual choice of writing songs that don't just skim the surface in content. Unfortunately, most of the tracks only stimulate an inability to understand what Newman is saying, leaving listeners feeling left out.
Aside from the five redeemable songs, the album is a poor pairing of obscure lyrics with music that could be used in any sleep-inducing playlist.
There isn't anything wrong with calmer and quieter songs, but the disappointment of this album lies in expectations; it only seems logical for Alt-J to step up its combination of bold, complex rhythms and upbeat melodies to deliver a strong album to follow its impressive first record.
Alt-J – This Is All Yours tracklist:
"Intro"
"Arrival in Nara"
"Nara"
"Every Other Freckle"
"Left Hand Free"
"Garden of England"
"Choice Kingdom"
"Hunger Of The Pine"
"Warm Foothills"
"The Gospel Of John Hurt"
"Pusher"
"Bloodflood pt.II"
"Leaving Nara"
"Lovely Day (Bonus Track)"