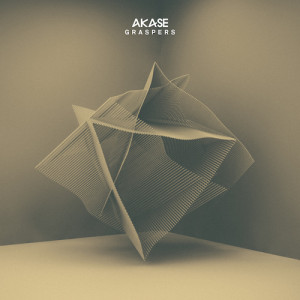 Release Date: January 22, 2016





Bands are usually spurred by friendships with other musicians. They get together and jam, and then they either come together or fall apart. Longtime friends DJ Harry "Midland" Agius and singer/multi-instrumentalist Robbie Redway stuck together, and they've since released a record that isn't made very often because two music-loving friends created it with a clear vision. Techo, house, and soul combine worlds in AKASE's full-length debut Graspers.
Graspers is slightly reminiscent of Broken Bells, the partnership between The Shins' James Mercer and musician/producer Danger Mouse. While these duos merged from different music worlds, they both created a sound all their own. But AKASE creates music on a totally different playing field than Broken Bells because their music blends both Aguis and Redway's ideas together, whereas Broken Bells feels like another James Mercer project. Mercer's singing is melodic and evocative of his work in The Shins, whereas Redway delivers his lyrics through long, erratic breaths.
Those who are fans of Midland and Redway will undoubtedly love Graspers; they both wholly bring themselves and their ideas to the table. And those who hear the album for the first time may be a little thrown off. The album's first track "Adrift" takes about a minute before Aguis kicks in his beat — a long time for listeners with short attention spans. This isn't just any old pop album, though. Listeners who appreciate the anticipation of an incredible hook, no matter how long it takes to get to, will enjoy the record.
Graspers rewards the patient.
Aside from Redway's singing, AKASE is different from many other collaborative producer/singer projects. Namely, this isn't an album to dance around to. It sounds as if a dark cloud loomed over each song, projecting London onto Graspers. Listeners may instead place Graspers on the needle during a gray day for contemplation.
When listeners finally find themselves hooked on the album's first single, "Rust," they'll slowly delve into all the other great aspects of it. Agius found his sweet spot on Graspers. During the entirety of the album, the beats sound varied and new as they lie under Redway's ambious and well-written vocals. These two went far to create the album, giving it much-needed breadth.
AKASE may abide by taking their time to create art, and this policy served them well. Although Graspers kicks off slowly, it ends with a fascinating partnership of two friends who love what they do.
AKASE – Graspers tracklist:
"Adrift"
"Rust"
"Borderlines"
"Beseech"
"Call"
"Is It Because"
"Murmur"
"Deft Ways"
"Feel A Little"
"Graspers"
"Extract"