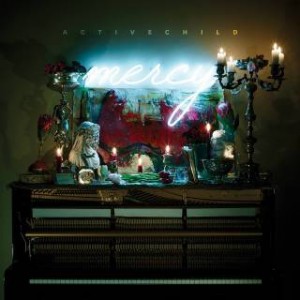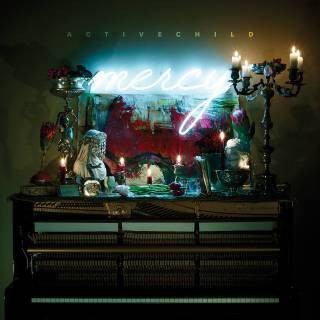 Release Date: June 16, 2015





From the very beginning of his career, Active Child (aka Pat Grossi) swept us into his own universe. Mercy is the sophomore album from Grossi, and is in a similar style to his debut You Are All I See, but there are some stylistic changes that Grossi made in the four years between albums. Mercy effortlessly moves between ambient rhythms, neo-soul, and subtle pop beats; Grossi's style could be described as angelic acoustic post-dubstep that evokes an introspective yet fun feeling.
The tracks on Mercy fluctuate between chill and dazed to dance tracks. "Stranger" has a solid pulsating, club-ready beat, "Never Far Away" has a late '90s/earl '00s R&B vibe, and "Too Late" is a piano ballad. While this album is still driven by electronic instrumentation, it isn't used in as upbeat a manner as it was on You Are All I See. Mercy is calmer in comparison, which works well and makes the album seem more mature.
Beginning with an acoustic guitar, Grossi croons, "Darling, how have you been/I know the world is low/But with patience you will find/A new strength and piece of mind," on "Darling." Grossi's lyrical style is simple and repetitive. This track in particular is reminiscent of a lullaby—perhaps one of the stand out moments on Mercy. The track is delicate and perfectly placed amongst the more beat-oriented production on the album. Grossi is particularly skilled at striking a balance between the moods and sounds on the album.
Grossi's vocals are choral, polished, and soulful; he did grow up as a member of the Philadelphia Boy's Choir. His voice is wonderfully paired with his production style. The marriage between the two stands out on the title track, "Mercy." On most of the album he stays in a higher range, which is gorgeous, but when he consciously dips into his deeper voice it has a grittier vibe.
"Midnight Swim" is a precious moment amidst vocals, electronic production, and a little bass. The track is entirely instrumental and primarily composed of strings. The track begins light and quirky, with subtle distortion lurking in the background. The strings are plucked in a jarring staccato fashion, distracting from the echoes and glittering guitar strums happening simultaneously. Eerie electronic slices make brief cameos before the track turns entirely to a drone. It is easy to get caught up in Grossi's vocals, so having the instrumental break brings the listener back to focusing on production.
Grossi is a like a very polished and sonically interesting late '90s boy band member gone astray. What stands out about Grossi is his compositional skill and use of his voice to obtain the sound he wants.
While listening to Mercy, one can get a sense of Grossi's understanding of music.
While Mercy isn't exactly a "fun in the sun" summer album, it suits milder afternoons and the occasional lonely night. Aesthetically, it engages from the beginning, and technically, it is masterfully made. Grossi has fine-tuned his style and talents, making Mercy a necessary listen.
Active Child – Mercy tracklist:
"1999"
"These Arms"
"Never Far Away"
"Darling"
"Mercy"
"Midnight Swim"
"Stranger"
"Temptation"
"Lazarus"
"Too Late"