As the son of Jeff Tweedy and the eerie face-blend of Michael Cera and Elijah Wood, Spencer has some big shoes to fill. Evidently not a fan of wasting time, he graduated high school in June and has spent most of the last few months playing with his dad in their band aptly named Tweedy. Sukierae, the duo's 20-song double album, has been in stores for one month now and the excitement surrounding the release shows no signs of stopping. Amidst extensive touring and television appearances, Spencer had some free time to chat with Pop 'stache via email about music, clothes, and his feelings.
Pop 'stache: You recently deferred college. Can you talk about what this decision means for you and what you're learning from it?
Spencer Tweedy: In the three or so months since graduation, I've learned that it's a challenge to stay afloat mentally without the routines and the identity that being a student affords you. It's also nice to have forced exposure to lots of literature, and people, and ideas. But I think deferring is the smartest thing for me to do right now, with the opportunity that I have to play music. I definitely miss the academic environment but I figure that that will always be there—I want to take every chance I have to tour and play music. Plus, I get to hang out with my dad.
P's: What's your favorite record that has been released this year?
ST: I really like Morgan Delt's Morgan Delt, Twin Peaks' Wild Onion, Avi Buffalo's At Best Cuckold, and Michael Cera's true that.

P's: You're 18, playing drums, releasing records, and getting interviewed on The Colbert Report. What do you like to do when you aren't busy being awesome?
ST: I like to record in my room, think about app ideas, and read stuff on the Internet. I'm also addicted to looking at gear on Reverb.com.
P's: App design is an interesting outlier in what would otherwise be a completely musical lifestyle. What's up with that?
ST: I've been a tech geek since I got my first laptop, a hand-me-down Apple PowerBook from my dad in the early 2000's. For a long time I was just really good at operating computers, then a few years ago I put it to practical use with graphic design and app development. But I don't really do it so much anymore—I just like to think of little projects I could do, some of which I work on, most of which I just sketch.
P's: Are you planning on following in your dad's denim footsteps, or do you have your own plans for iconic fashion items?
ST: I plan on carrying on the denim torch lit by my father.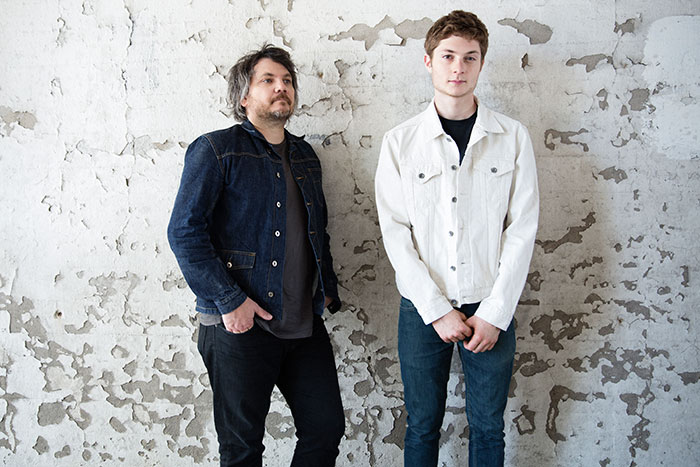 P's: What's your biggest musician/band member pet peeve?
ST: A lack of punctuality. But luckily I don't have to deal with too much of that.
P's: It's hard to imagine your dad being one of those fashionably-late-arrival guys. Are all of the band members in Tweedy (the live arrangement) punctual? That seems uncommon for a group of musicians. 
ST: Oh, yes. Everybody in the live band with us takes their role very seriously. But I don't think it's too hard to be on time and prepared when you're eager to play the material!
P's: You've put out some of your own music before. Is a frontman position something you're interested in?
ST: It's hard for me to picture myself as a frontman because I've been playing shows behind the drum set for so long, like 11 years now. But I have always wanted to make and perform my own music so if that means having to be a frontman, I think I can pull it together.
P's: Are you a "jump for joy" kind of guy, or are you more low key?
ST: Historical precedent would suggest I'm more "jump for joy." I was a really hyper kid, but I think nowadays I'm a little more low key. That said, I'm not afraid to let people know I'm excited.
P's: A few people have pointed out your low key attitude when you're drumming. It isn't clear whether it's out of focus, or boredom, or if you've reached a level of zen that transcends physical expression.
ST: It's focus… I feel bad sometimes when it looks like I'm bored, because that would be rude to the person who wrote the song, but I'm not; I'm just thinking about which drum to hit next.
P's: If you could have a drink with any drummer from history, who would it be? And what would you drink?
ST: I would like to have a chocolate milk with Levon.
P's: Do you prefer to make chocolate milk with syrup or with powder? 
ST: I've dabbled with both in my time and syrup is generally more satisfying. But I also fuck with juice box pre-made.
P's: Is there any song on Sukierae that stands out as being notably stronger or more special to you?
ST: When I first listened to "I'll Never Know," I thought to myself, "Wow, someday, this song is going to absolutely wreck my emotions." Hopefully that day is a long ways away.
P's: That song likely stands out to a lot of people for very different reasons. Tell us what that song says to you and why you find it so emotionally destructive?
ST: It's just so sad, in a hopeful way… From what I've heard my dad say about it, it's about spending time with Sammy (my brother) and me, and how it reminds him of the time he spent with his mom. She used to doze off, cigarette in-hand, while they watched old Judy Garland movies together on the couch. Over the years, my dad, my brother and I have kind of repeated that routine and I think my dad felt remorseful about it, like he was neglecting us, until he remembered that he was happy even when his mom fell asleep. He still felt her presence, they were still there together… It was comforting for him to think that his kids feel the same way. And [so do] we.
P's: Now that the album is out and touring is under way, what are your short term plans moving forward? What about long term plans?
ST: In the short term, I'd like to put out a small release of my own. In the long term, I'd like to make some more records and play shows, and probably do some sort of non-musical thing, too. Maybe I could be an alderman?