She had a "New Year's resolution to write something of value," Camera Obscura's Tracyanne Campbell sang Friday night, but judging by the enthusiastic crowd's reaction and the quality of her band's recorded output to date, she should have checked that off her list long ago.
The lead singer and lyricist for the Scottish quintet (expanded to a septet for this show) sashayed through 17 numbers at Thalia Hall in Chicago's Pilsen neighborhood, pleasing the indie-pop cognoscenti in the crowd, although judging by the way the audience danced and sang along, the group was obviously preaching to the converted.
A camera obscura, Latin for darkened room, was an early ancestor of the modern camera. But it would be a shame for Camera Obscura to remain in the dark obscurity of the "bubbling under" indie-pop genre, for their songs, dominated by a rich, anthemic orchestral pop approach; tasteful (but never busy) rhythmic intricacy; and Campbell's "Honey In The Sun"-soaked alto, are such that they should be, if not on the top of the charts, then at least known to more than just the crowd at Thalia Hall.
The winsome and twee orch-pop the group has produced has always put Camera Obscura in "little kid sister" territory when compared to fellow Scots Belle and Sebastian—a natural comparison, especially since that group's leader, Stuart Murdoch, produced Camera Obscura's 2002 debut, Biggest Bluest Hi-Fi.

Although this performance naturally focused on the band's most recent release, 2013's Desire Lines (4AD), the most sublime moment of the evening came when the band deviated from its setlist.
Camera Obscura played "Books Written for Girls" from the 2004 sophomore outing on Merge, Underachievers Please Try Harder, a song so wry and preciously done, the heartbreak is palpable, especially with that beautiful pedal steel solo.

The same should be said for "Country Mile," written in Sweden during the recording of Camera Obscura's third record, Let's Get Out Of This Country. The song provided another quiet and lovely moment of the evening, with its captivating sentiments of separation and chorus of, "I won't be seeing you for a long while/I hope it's not as long as these country miles/I feel lost." Although the strings had to be synthesized by keyboards, the shimmering cymbal crescendos and pedal steel accents were enough to make the song resonate nonetheless. Other highlights included the single "French Navy" and the title track from My Maudlin Career.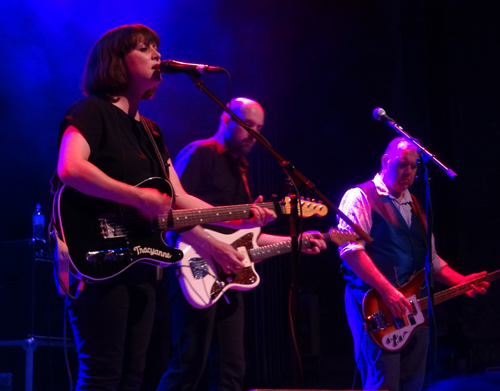 The third release for Camera Obscura integrated additional country elements and fleshed out its pop approach with a rich tapestry of rhythms, horns, and guitars and proved to be a breakout of sorts for the band—and those elements were clearly on display with this set. Although that record was led off by the strong single, "Lloyd, I'm Ready To Be Heartbroken," penned as a response to the concluding cut on Lloyd Cole and the Commotions' 1984 debut, the band saved a rollicking version for the end of its set.
As it's been doing throughout this 11-date tour through North America, Camera Obscura concluded with an encore including "Come Back Margaret" and a slowly building and triumphant version of Country's concluding number, "Razzle Dazzle Rose."
Especially given that two members of Camera Obscura are new parents, it may be a while before they grace Chicago with their presence again, but a few local acts mine a similar vein, so those interested in investigating the sound of "orchestral pop" do have occasional opportunities. Local favorite Canasta, for example, played their first gig more than 10 years ago at a Belle and Sebastian tribute night, and since then they've played shows all around town, and continue to do so on a regular basis.
But this night belonged to Camera Obscura, and even after the beautiful music stopped, it was easy to hear their winning melodies and clever lyrics resonate through Thalia Hall upon departing for the evening.