If you're a fan of the musical West Side Story, the origins of indie-electronic duo Oh, Be Clever might sound familiar.
But instead of rival gangs like the Jets and the Sharks, bandmates Brittney Shields and Cory Scott Layton were members of two rival bands in high school. Although the bands played shows together, they were unable to form a strong camaraderie — except for Shields and Layton, who were friendly and liked playing music together.
"The personalities of everyone were so strong that Cory and I were the only ones out of the two bands to get along," Shields explains to Pop 'stache via phone, while driving to a show in San Diego. "And then our bands just had a meltdown."
The building tension between the bands came to a head one night when an argument about show details turned into a physical, out-and-out brawl.
That was the last straw for Shields and Layton, who were done with the drama. They immediately quit their respective bands to start what would eventually become Oh, Be Clever.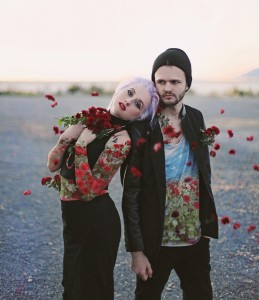 It's been a few years since that night in the parking lot, but today Shields and Layton are as committed to making music together as they were when they first started. They've always had a "crazy chemistry" to their musical collaboration, says Shields, who sings and writes most of the lyrics to match Layton's instrumentals. And while the duo has plenty of experience playing together and experimenting with different musical genres, 2014 is the year in which they are solidifying the sound and the direction of the band.
"Our focus now is on this new sound, because it's completely different from what we've done before," Shields says.
At the end of January, Oh, Be Clever released its single "Next to You," a spirited, soulful preview of the band's upcoming six-song EP #Awakening. It's upbeat with big, aerobic vocals from Shields, buzzing with Layton's energetic arrangements and hints of some of the band's influences, like M83 and the Eurythmics.
This year also marks the first tour for the band, which is based in Salt Lake City, Utah. Kicking off in the first week of February, Oh, Be Clever played shows in California, Arizona, Texas, New Mexico and Colorado. Now they're taking some time off to rest before heading to Austin, Texas for SXSW.
"Going to SXSW has been on my bucket list since I was 13, and now I'm playing in it," Shields says. "It's super awesome."
But in order to head out on the road to play music full-time, Shields and Layton had to leave a few things behind—their jobs back home, for example. They both gave notice at work (both worked in sales at telephone companies) right before hitting the road. It was a decision that didn't seem to faze Layton, who Shields says has been "the driving force behind the band the whole time," but she says leaving steady jobs to pursue their dreams of being musicians does make her kind of nervous sometimes.
"It's been kind of hard for me not to have a Plan B, because I'm such a worrywart," Shields admits. "But being out here on the road and having the opportunities that we've had just solidifies and validates the decision that we've made every single day that we do this. We're not making a lot of money right now, but we're loving it, and we're happy, so that's the main thing."
After checking SXSW off Shields' bucket list, the singer says she doesn't know exactly what's next for the band, but no matter what it is, they're both excited to find out.
"We decided we're not going to have expectations, because we're just in it for the ride," Shields says. "Obviously we're in it to win this, and we want the best outcome, but we know the music industry is crazy. So we're just going to work our butts off, tour, write like crazy, sell as many EPs as we can, book as many shows as we can, and we're hoping that SXSW will open more doors for us. We'll just see what happens. We're excited."