Adam Brock 4 is four individual song writers, Adam Brock, Amanda Farmer, Abbey Hickman, and Barra Brown, from Portland, Ore. coming together and bringing a fuller sound to Brock's former solo career.
Brock's catalog thus far, though not being very large, has included six varied songs over two EPs that make for a brilliant collection of alternative indie-pop. "24" is a stripped down, intimate acoustic track with contrastingly fun rhythms and a grooving electric guitar solo while "Amy" brings a full-band aesthetic to Headphones EP. Brock's smooth vocals and ability to create enticing and flowing melodies bring a charm to the music that the rest of the band is sure to only improve.

Adam Brock 4 started when Farmer contacted Brock after hearing a song of his on the radio and joined him on keyboard and backing vocals. Then, Brock heard Hickman singing and demanded she join as well on keyboard and backing vocals, followed by Brown, who Brock knew from jazz classes and who joined on drums.
While all of the members have been involved in music from an early age—writing, learning piano and other instruments, Brock and Brown dabbling in jazz—the most interesting is Hickman's earliest musical experience in which her mother paid her to stand on the table and sing for guests, performing "Can't Help Lovin' Dat Man."
Now, after a year together, the band is finishing it's first album.
"Both of those EPs were just what I had written and recorded recently and just wanted to release right away, and that's one thing that hopefully will be better about this release. It makes more sense as a group of songs, more unified," Brock says. "I don't consciously try to write in a specific style and I try to listen to a broad range of music, so, ideally, the music just kind of fits whatever basic structure and the rhythms of it. But the new album is still a pretty eclectic group of songs."
Since Brock is no longer solo, one can expect the music to make more evolutions than it would have if created by him alone.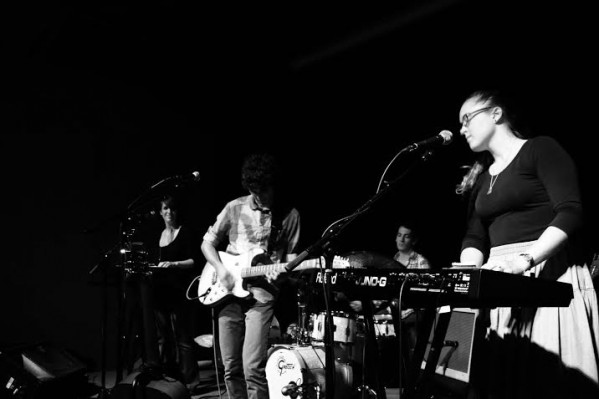 "Just playing with these guys a lot over the last eight months, I've become very familiar with their qualities and their strengths, so that's definitely influenced these new songs, especially the arrangements. I'll be like, oh yeah, that'll be the girls singing harmonies or a certain sound or certain things Barra brings that's really unique to the drums." Brock says.
"I feel like the way [Brock] has been using synths and bass on the keyboards has changed the way [he thinks] about writing music. The music has become more dancey because [he] has all these different sounds. It's more of a live performance feel," Amanda says.
Adam Brock 4 is determined to release the album within a few months, but no date has been officially slated, nor a title chosen.  The group does have a single that is expected to be released within April, titled "Riddles"
"[These songs] are really good. Let me tell you something, "Riddles" is some of Adam's finest work, if I do say so myself. It's gonna blow your mind." Brown says, half-jokingly.
In the meantime, the band is simply excited to continue playing more shows together and grow as a group.
"It's just been really cool seeing more people come to shows. It's pretty special with this band that every concert we're getting better and it's noticeable," Brock says.
Adam Brock 4's blooming career has picked up some attention playing in some of Portland's better venues and Brock was a finalist in national competition, NewSong in 2013 and has been featured on Tender Loving Empire's annual compilation and a Beach Boys covers compilation. With the upcoming debut record, the group can really pick up pace.
"I want [the album] to be something that we're all really proud of and can last for a good year and still be enjoyed listening to." Brock says.
Photography by Seth Ian and Craig Williams.