The aptitude of an artist to synthesize styles and create something that can be examined from several angles is a feat that leads one to success. The Hotelier has recently delivered such an album with Home, Like Noplace Is There and though its success may not be in the form of large sums of money or a huge following just yet; it's proven to be a band with potential.
The Hotelier ties together punk, pop, and post-hardcore without ever feeling unnatural.
The music of Home, Like Noplace Is There flows from one song to another and never becomes dull or underwhelming, largely due to Christian Holden's ability to merge between singing and yelling, along with the band's capability to create infectious hooks and powerful bridges, which keep the listener on edge and gives The Hotelier cross-over opportunity.
"Chris [Hoffman] played in a screamo band, Sam [Frederick] played in a grindcore band, and I played in a pop band. But then we decided to play in this, which is kind of an extension of what my pop band was," Holden says. Chris and I also played in a metalcore band and I did vocals for that, so part of what I did was screaming and part was singing, and I always thought yelling could be incorporated a little bit."
While The Hotelier's music is often rhythmic and exciting, the lyrics have darker tones describing unstable mentalities, inevitable disaster, coping, and other delicate subjects. In "Your Deep Rest" Holden belts out lyrics about a past lover that was going through a dark stage. His fear of something terrible happening to her is evident in his delivery and invests the listener that much more.
"Most of the idea behind [Home, Like Noplace Is There] was that I felt like a lot of stuff had changed about the world since the record, It Never Goes Out, that we made earlier. My life started getting darker, my interactions with my friends started getting darker, and we didn't feel as empowered as we did when that record came out." Holden says. "Everyone I knew who had grown up in suburbia had this really fucked up internal conflict going on that I felt like needed to be torn apart and rebuilt. It seemed like everyone's issues were from how they were built and how they were built was not ready to handle the real things that life throws at you. That was the common thread throughout the album."
Although the core of the album touches on melancholic themes, it isn't overdone. The lyrics aren't hopeless and the music sometimes contrasts against the issues with energetic, warm sounds.
"I knew it was going to be a darker album than the first one. I wanted to to get everything that had gone on into a record and have it be emotional, but not draining. Because I can listen to a lot of sad records and they can get pretty draining and you can get too exhausted to even listen to it. So, I wanted something that was sad, but uplifting, and kept the person wanting to listen and feel maybe empowered after listening to it in some sense." Holden says.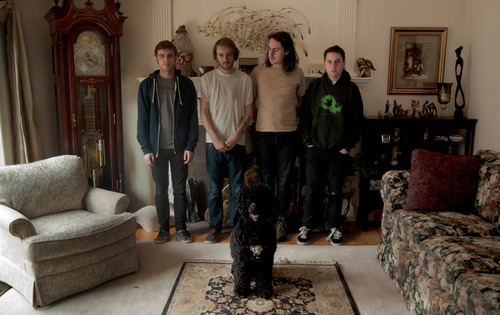 In support of the record, the band went on a fairly large tour recently, including a particular show in Brooklyn on March 27th that Holden was especially happy with.
"It was the wildest reception we've ever gotten while playing a show and with the new songs. It just felt a lot better than even when we're back home and get a good reception. It just felt really good and it was a really mixed group of people. That's probably the best part, when people just get really in to it. The best part is feeling like people care about it." Holden says.
With a sound as refreshing as The Hotelier's, it should be no surprise that people care. It takes a certain uniqueness to stand out in the underground scene, especially with the oversaturation of small artists due to the Internet. It's the ones that add something different to music and break barriers that become beloved to the alternative fans. The Hotelier will achieve that.
If you didn't catch the band on its recent tour, they are planning a couple more over the summer. With these two tours, The Hotelier could really gain some ground, so keep an eye out.