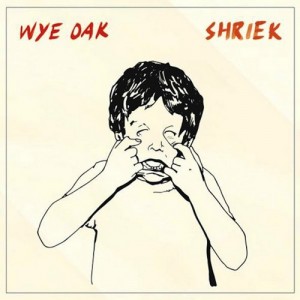 Release Date: April 29, 2014





It seems all too soon that Wye Oak is on the cusp of releasing its next album, Shriek, as its previous record was such a refreshing and honestly timeless piece of indie pop. Still, time passes, people move, and ideas form.
Approaching Shriek, Andy Stack and Jenn Wasner had survived two years of touring for Civilian and had moved across the country from one another. As they explain, those years caused them to look at the grandiose swaths of sound from their last album and translate them into more intimate, animalistic vantages of sound and feeling.
They do so with precision and dedication on Shriek, where loss and love and everything feels just as heavy as it did on Civilian, but is brought forth in a sheen of soft keys and a strut of drums and bass that serves Wye Oak's new direction well.
Along with this conceptual approach came the decision to completely abandon guitar on this album. And while the group's calling card is undoubtedly the flow between Wasner's guitar and her voice, the change in direction works to wondrous effects.
Wye Oak 2.0 comes out with an assured poise, and delivers an album that is solid all the way through.
"Shriek," the title track, is essentially a Beach House B-side, with the same soaring vocal lines and undercurrent flow of keys and drums that made everyone fall in love with Victoria Legrand a couple of years ago. Still, it's a quietly amazing track, where Wasner's newfound funk stands out in her bass lines and melodic and rhythmic mapping of the track's chorus.
The two singles released, "Glory" and "The Tower," show two sides of the same coin that is Wye Oak.
On the one hand, "The Tower" brings a cathartic experience to the listener as Wasner mulls over her own expectations: "They think the answer lies with me, but I am powerless to stop." All the while, the almost vacuous fervor with which the synth and drum lines dance about and play with the cagey string section feels as emotionally close to the track's ethos as can be.
On the other hand is the more upbeat funk of "Glory," juxtaposing the album's emotional catharsis with salient groove. More lively and with a strong hook, Wye Oak comes out of its shell with a shrill bass line and echo synth melodies akin to School of Seven Bells' electronic palette, creating a more radio-friendly single than "The Tower" that's still tied to the new emotional and sonic approach that the group is looking toward.
You would be hard pressed to find an indie or alternative album out today with the same consistency in breadth and sound and gravity that Shriek has. Wye Oak established its place with Civilian in 2011, but finds itself at the edge of an even higher precipice with Shriek, where powerful songwriting and musical assuredness both play a hand in what makes the album noteworthy. Shriek may very well be an unexpected standout in this year's  music catalog.
Wye Oak – Shriek tracklist:
"Before"
"Shriek"
"The Tower"
"Glory"
"Sick Talk"
"School of Eyes"
"Despicable Animal"
"Paradise"
"I Know the Law"
"Logic of Color"