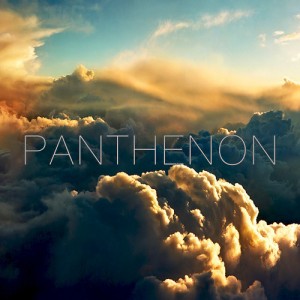 Release Date: February 25, 2014





You have less than three minutes to buckle up and settle in—2:57 into the first track of Panthenon, Will Post launches you into space.
As enticing as it may be to skip ahead to the propulsion–don't. It's the slow build that gives the album's most impressive moments their impact, and the build-ups make breaking through the atmosphere more bearable. The best way to enjoy the amazing Panthenon is to be patient and open-minded. Strap in for a ride and see it through until you're safely returned to terra firma.
Heavily influenced by sci-fi sensibilities, the songs, epic and thematic, sound like they belong to the alien rock band that Muse listens to for inspiration. The content, too, falls under the sci-fi realm, namely man's relationship with machine—a co-dependent relationship that Post embraces.
Panthenon exemplifies that as humans, we are in awe of machines and all they can help us accomplish. In fact, neither the album nor the artist would exist without the use of computers.
The album was created on a laptop in the basement studio of Bill Prokopow, Post's alias. Yet he understands that while humans may be in awe of machines, we are even more impressed by what we can accomplish without them.
While Panthenon is listenable thanks to software, it will connect with audiences because of the human element—because of Post himself.
His singing throughout the album is minimalist in style, using simple, yet well-conceived melodies that complement the music instead of trying to sit above the mix. Post barely ever raises his volume, instead opting for emotion through personal lyrics and a genuine performance.
As is inevitable when sharing such personal feelings, some ideas may not resonate with audiences as well as Post would hope. Lines like, "Though I'd like to hold you through the years/and whisper little goodies in your ear," ("Little Bird") can come off a bit creepy, especially when sung in Post's near-whisper.
Despite these occasional missteps, Post's expression of honest feelings is crucial, especially considering that nearly every other component of Panthenon is synthetic. In order to pluck the heartstrings, he has to lay it on the line, and he does; sometimes for worse, but mostly for better.
Honesty is an important theme in Panthenon. Lyrics from album opener "Experiment 8" promise the person Post loves that if they stay, he won't lie to them. In "She Cries," the tables are turned, and now it's "she" who is lying to "him." In the latter half of Panthenon, the outstanding "Ruby" opens with the line, "Once I thought I knew the truth/Once I saw the truth in you."
It's possible that Post has seen his share of mistrust before, though he is still willing to open his vault of personal feelings to share with the strangers listening to his music.
With less than 20 seconds before Panthenon comes to a close, Post offers those still listening a summation of the album and all he has learned through his other-worldly travels. "The more you love/the more you're home." The music fades, and you're back on earth, feeling every moment of the ride.
Will Post – Panthenon tracklist:
"Experiment 8"
"You're Something"
"World on Fire"
"Disappeared"
"She Cries"
"She"
"Little Bird"
"Ruby"
"Meditation"
"State of Affairs"