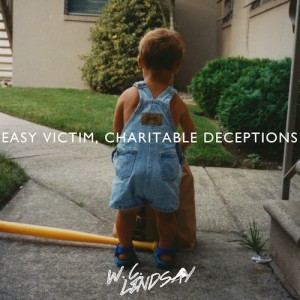 Release Date: April 15, 2014





Despite being raised in a punk-driven community, William Charles Lindsay grabbed on to electronic music at a young age and has stuck with it ever since. By merging his initial love with influences from his upbringing in Philadelphia, W.C. Lindsay has raised the bar with his debut full-length Easy Victim, Charitable Deceptions.
The album, released via the charity label Big Footprint Records, is brimming with clever tricks. It's astonishing how many radically different genres are explored from track to track. Whether it's a brisk rap over catchy beats or an emotional holler paired with guitars and drums, Lindsay covers an overwhelming amount of ground on this fantastic LP.
The album starts where Lindsay's musical interest did—with a fun, electronic song. "Into the Night" is a standard pop song on a lot of levels, but Linday's unique vocals set it apart. His delivery is passionate and bold, creating an attractive contrast with the shimmering synth. It's even better at the end, when he takes on his rap persona and progressively builds up to one of his signature yells.
Despite what listeners might think based on this song and the subsequent, beat-heavy "Kids These Days," Lindsay is far from caught in the realm of electronic music. Following the first two songs, "Slowly, So Sweet" is a folky ballad that focuses more on Lindsay's shaky voice and group harmonies. It sounds like a pop spin on The Lone Bellow, even coming close to matching the emotion behind Zach Williams' singing.
He goes a step further on songs like "Finally Learning the Language" and "Grow," two full-on rock songs with dense drums and crunchy bass, courtesy of Richard Straub and George Legatos, respectively.
The band is capable of seamlessly crossing over to any genre it wants.
But Easy Victim, Charitable Deceptions is more than just a clusterfuck of styles. No matter what genre Lindsay is occupying, he proves time and time again that lyrics are important to any classification of music. "Tree" is an exceptionally heartbreaking song about the disappointing reality of life. Lindsay sings, "This is the spot where a waspy old wife will grow old and grow tired of routine/But she'll bury it deep down beneath a cookie-cutter smile because that's the way she wants to be perceived."
By placing focus on every aspect of the music and showing off his ability to change styles in an instant, Lindsay proves his mastery of songwriting far outreaches his years in the industry.
He brings it all together at the end of the album in "Hum & Roar," the epic maelstrom of noise that leads up to the closing track. The song has a folky feel with an acoustic guitar, but the drums and bass of a rock song. Lindsay's lyrics have a hip hop flow at times, with a focus on the story of his childhood lover, emphasizing how hearts change and love fades.
Easy Victim, Charitable Deceptions ends on an electronic reprise of "Hum & Roar" that rides on the energy of the previous song. "Ungrow" is mainly instrumental, closing the accomplished album with a faint buzz and a feeling that all of the hardships explored in the songs are now at ease.
W.C. Lindsay has crafted an unclassifiable album that spans a multitude of genres, and he rocks the diverse styles better than many musicians who focus on them individually. His debut is a fun, yet emotional listen, but above all else, it's a true songwriting masterpiece.
W.C. Lindsay – Easy Victim, Charitable Deceptions tracklist:
"Into The Night"
"Kids These Days"
"Slowly, So Sweet"
"Kelsey"
"Oregon"
"Grow"
"Hard Youth, Hardly You"
"Little Ghost"
"Finally Learning the Language"
"Tree"
"Hum & Roar"
"Ungrow"