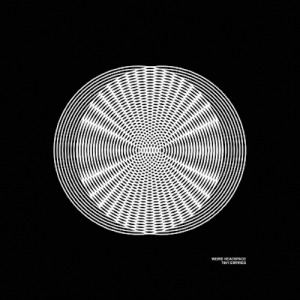 Release Date: April 15, 2014





Anyone who thinks old people can't rock is about to be silenced.
Tiny Empires is made up of ex-members of a number of underground punk bands, making a supergroup of experienced musicians who've paid their dues. These self-proclaimed "older men" got together a few years ago and are finally releasing their killer debut full-length, Weird Headspace.
Fans of O Pioneers!!! and New Bruises—the two bands that make up the bulk of what is now Tiny Empires—will be surprised at what they hear. This hybrid brings the intensity of the past bands and adds more cohesive, melodic elements to the music. The end result is a thrilling mess of post-punk at its best, marrying the raw elements of punk with more complex riffs and singable refrains.
Even the dynamic song the band released as a split with Tiger's Jaw in 2012 couldn't mentally prepare listeners for the mayhem that comes on Weird Headspace.
The Houston/Tampa-based quintet has hit the sweet spot, crafting a perfect mixture of classic, heavy-hitting punk with more complex riffs and songwriting. Singers Eric Solomon and Byron Lippincott work off of each other impeccably, and to put the icing on this delicious cake, the band has three guitarists, making each track loud as hell.
The short debut starts with a low growl that soon explodes into the album-spanning frenzied uproar Tiny Empires will be known for. "Wide Open Spaces" shows off the sheer power of the group, both musically and vocally. The instrumentals are cranked up to full blast, filling the track with fierce distortion and thrashing drums. Solomon goes all out, repeating the recurring opening lines with his vigorous, hoarse yells that take the song—and overall album—to an otherwise unreachable high.
This emotional surge only intensifies as the album continues, never stopping or slowing for a moment.
Every song starts off with a comparably relaxed mood, but that never lasts long. Eventually the sedated intros erupt into a fiery mess of emotion. A lot of this ferocity is thanks to the two singers, who multiply the energy of each song by offsetting Lippincott's melodic croon with Solomon's relentless howls.
"Air Conditioning, Full Blast" epitomizes this contrast with melodic singing in the verses countered by the explosive screams in the chorus and bridge. Then there's "What's The Plan Phil," which does the opposite. The entire song is loud and bold, this time allowing the verses to run rampant while some backup singing is thrown into the chorus to tone the screaming down a bit.
Though Solomon and Lippincott drive the music to a higher state, the instrumentals play an equally important role.
Take "Tired Hearts and Livers," which starts out with catchy drums and adds other instruments in succession. When the first guitar comes in with a simple riff, it's not too enthralling, but by the time the third guitarist and bassist have joined, it's an intricate soundscape that draws you in for the characteristic explosion. From here, Solomon and Lippincott add to the madness with another dynamic performance, ultimately making "Tired Hearts and Livers" the best song on the album.
Weird Headspace ends triumphantly on a nine-plus-minute medley of dissonant badassery.
"Blurry Photos, Dead Leaves, Decomposed" starts with two crunchy guitars and quiet singing, though this is only one of many musical motifs in the song. This ends with groovy bass and screaming vocals in the verse, eventually collapsing into the album's most epic chorus.
The overwhelming distortion and clashing riffs make for an unmatched tension, and by breaking down into that recurring cacophonous clatter, it generates a disorienting atmosphere that swallows listeners whole. Following this spell, the third discernible movement to the song continues on that uncomfortable path with shrieking guitars and off-putting harmonies. Rather than pegging this as a regrettable mistake, it's obvious the band meant to rouse these feelings. The stylistic choices it makes create a thunderous, mind-shattering ending to this monster of a debut.
The entirety of Weird Headspace shows the flawless chemistry this band already has, despite its short life thus far. These seasoned musicians aren't here to fuck around—Tiny Empires wanted to unleash hell on its debut LP and did just that.
Tiny Empires – Weird Headspace tracklist:
"Wide Open Spaces"
"What's The Plan, Phil"
"Just Imagine"
"Tired Hearts and Livers"
"Air Conditioning, Full Blast"
"Blurry Photos, Dead Leaves, Decomposed"