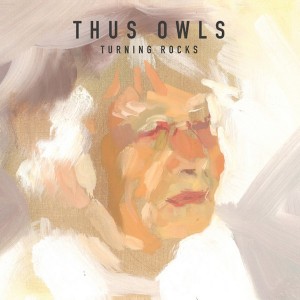 Release Date: April 8, 2014





For the duration of pop music on the world stage, Scandinavia has blessed the world with quality in every corner of popular music.
From metal to pop to whatever Bjork is, our friends in the north know how to write and craft, and have been churning out music for every genre for years, so little treats like Thus Owls are no surprise to the trained ear. Originally from Sweden, married couple Erika and Simon Angell, now based in Montreal, have followed up their second album, 2012's Harbours, with Turning Rocks.
The album is an exploration of sound in tone and atmosphere, as Simon's proficiency in guitar particularly shines through in the music's cloudy landscape. In addition, the couple has said that keys—in particular mid-20th century organs—were integral to the creation of the sound of Turning Rocks. True, you can hear various organ sounds throughout the album, but the wonderful thing about the way the Angells craft songs is their reluctance to allow the crux of their album's musical inspiration to completely consume or overpower the sound they've created over the past couple of years.
The married duo's mastery of tone and aura shines alongside a strong melancholia that encompasses intelligent songwriting and instrumentation.
Turning Rocks feels warm and cold, quiet and loud, and is patient enough to let its musical moments play out fully.
A wonderful example of this is the title track, which gallops along a soft organ pulse as guitars swell in and out of Erika's crooning, becoming as wild as the landscapes that shape and inspire their music.
"Smoke Like Birds" and "How, In My Bones"—both highlights of Turning Rocks—show in their differences the variable sound that the Angells are creating. While the former brings an airy, driving, almost staccato song structure, the latter's loose jangle and spacious use of sound demonstrate how the album itself works as a whole to ebb and flow through sound and feeling.
The album closes with "Thief," in which Erika's tone-altered voice, straight from the pages of Karin Dreijer Andersson, encapsulates the feeling of Turning Rocks. "Now Ill always be someone's fortune, came out of tragedy," she yearns, as her lamentations give way to Simon's driving, hypnotic guitar and drum crescendo. "Thief" is quite the apt ending for the work, and an impressive, haunting piece of music.
Thus Owls, with Turning Rocks, have created chamber folk-pop with an attitude, as if Annie Clark decided her guitar was too crunchy. It's not an album of singles and pop hits, but one whose whole is better than its parts.
Erika has said that the album was inspired by her childhood home, on a small island in Sweden, and by the stories of the house and her family members throughout the years. These sentiments seem aptly translated in Turning Rocks, which drives through emotion with clarity and purpose.
Thus Owls – Turning Rocks tracklist:
"As Long As We Try A Little"
"How, In My Bones"
"Bloody War"
"A Windful of Screams"
"Ropes"
"Turning Rocks"
"Smoke Like Birds"
"White Flags Down"
"Could I But Dream That Dream Once More"
"Thief"