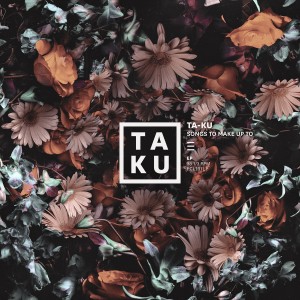 Release Date: June 12, 2015





After the break up comes the make up. Songs To Make Up To is the follow-up to 2013's Songs To Break Up To by electronic artist Ta-ku (aka Regan Mathews). Two years ago Ta-ku was categorized as a producer that made hip-hop-esque beats, that then dipped into R&B and experimental territory. STMUT moves away from the bass and kick drums to include more strings and sentimental vocals. Perhaps the title sways perception of the album, but it sounds more careful, tender, and romantic than Ta-ku's previous releases, which erred stronger on the hip-hop side, and were more successful endeavors.
Comparison aside, STMUT is engaging and different because of how the album is constructed. The tracks are often delicate, rarely dropping the beat. There is a very conscious control that comes with how each track shifts and changes. Ta-ku's production style has mellowed, holding back from over-stimulating eardrums. This new album includes strings, creating a sensitive vibe. Even on the more upbeat tracks, the production is kept low-key, like with "Long Time No See," which breaks with heavy bass overlaid by melodic piano and accented with strings.
Of the album's seven tracks, three have featured vocals, "Love Again (featuring JMSN and Sango)," "Fall4U" (featuring Sunni Colón)," and "Sunrise/Beautiful (featuring Jordan Rakei)." The lyrics are all very literal, which takes away from the production somewhat—the album's vocalists do add something, but their content is flimsy. Simple lyrics can indeed be powerful, but there could've been more complexity.
The EP is about making up, a very real emotional process, but it feels the stale lyrics crave more meaning and depth, to mirror that intention.
On "Love Again," the lines, "I don't want to do this again/This ain't the time to pretend/You know I make it better if I can/Because I don't want to do this ish again," are exemplary of the lackluster lyrics.
"Sunrise/Beautiful" features the lyrics, "Beautiful, I just want you to know/You're my favorite girl," which are repeated on the latter half of the track, and sound like a lyrical sample from Snoop Dogg's "Beautiful." The sample is recognizable, making the track a bit more interesting, but still, it isn't enough to wow listeners.
The album ends on an odd yet metaphoric note. The last track, "Work In Progress," is a piano track that sounds like an incomplete recording. The recording is muffled, background noises and voices can be heard as the passionate piano plays. The track is casual and while it's built on a concrete idea, it isn't fully formed and polished. Since these are songs to make up to, the relationship, too, isn't polished—a work in progress.
Songs To Make Up To isn't as innovative or evoking as Ta-ku's previous original tracks or his remixes. Perhaps he held back too much; the tracks sound over-thought, especially because the EP addresses something most of us have been through. It falls short when trying to be relatable and capture the same feeling.
Ta-ku – Songs To Make Up To tracklist:
"Hopeful"
"Love Again (feat. JMSN & Sango)"
"Trust Me"
"Long Time No See (feat. Atu)"
"Sunrise/Beautiful (feat. Jordan Rakei)"
"Fall4You (feat. Sunni Colón)"
"Work In Progress"