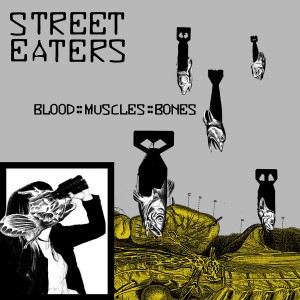 Release Date: June 17, 2014





Street Eaters aren't playing nice with their confrontational second full-length Blood::Muscles::Bones. The sophomore album with Nervous Intent Records never lets off the gas, propelled by drummer and vocalist Megan March, and bassist and vocalist John No. The East Bay Area duo captures the essence of angry, aggressive, anti-establishment punk with this thrashing record, and while it's traditional, it's also refreshing.
Alienation and ruination are common themes throughout Blood::Muscles::Bones, which is made apparent from the beginning by the glitchy opening seconds of "Reverse." Intro instrumentals play backward and lock in a non-linear sensation in this track about a life in retrograde. March reflects, "At the end of time I climb into the womb/The only place where I can get away from truth/From youth/From doom." It's a literal interpretation of living in reverse and knowing where everything went wrong.
The 50-50 collaboration between March and No translates like a battle — who can play faster, louder, and more honestly — which makes for songs with unparalleled intensity.
Their gritty drum-and-bass standoff makes every track race for the finish like street kids barreling down an alley to flee from cops. Youthful spirit is what makes Blood::Muscles::Bones both angry and sentimental.
The duo is a blend of the '90s Pacific Northwest underground activism scene and Bay Area punk revivalists with a dash of Riot grrrl spirit. Street Eaters' sound sits in the void between Portland-based indie rockers, the Thermals, and Dutch post-punk alchemists, the Ex.
March and No's activist spirit takes a rest in "Null." March croons, "I feel a comfort in knowing that if I don't sow then I won't reap/I'll make it null." The track makes these rabble-rousers seem deflated, but it's really just a different breed of anthem. In "Blood::Muscles::Bones," March sings, "Yes, I think it really matters/If you are dying in your own skin/It can't wait/It's all just a combination of blood, muscles, and our bones/They will never break." The track has a quieter sense of determination than its following songs.
That aside, the ten-track full-length doesn't arc or waver in intensity. Street Eaters focus their attention on greed and excess — the record charges on ceaselessly like a train running full tilt. The real standouts are "Dead Parts" with its mean hook, and the remarkably catchy "Running Dog." However, Blood::Muscles::Bones — while exciting — also flatlines. Without much escalation or variety, the record makes it seem like Street Eaters have one note.
March and No's mix of incredible energy and mutual political sensibilities begets thoughtful, heavy records, and this one is no exception. Street Eaters' Blood::Muscles::Bones is precisely the type of fuel needed to get mad.
Street Eaters – Blood::Muscles::Bones tracklist:
"Reverse"
"Null"
"Blood::Muscles::Bones"
"Dead Parts"
"Tailings"
"Empty Rooms"
"West"
"Running Dog"
"Waxwing"
"Comets"