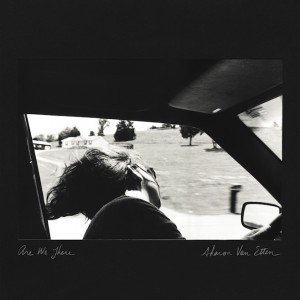 Release Date: May 27, 2014





Sharon Van Etten's Are We There is the soundtrack to overcast skies and rain pattering on windowpanes. The soundtrack to taking hot baths while smoking cigarettes, to driving too fast on slippery streets and ballroom dancing drunk in a parking lot.
Her melancholia is contagious and comforting, the absolute definition of catharsis. "I can't wait 'til we're afraid of nothing/I can't wait 'til we hide from nothing," Van Etten hazily laments on the first track, "Afraid of Nothing," setting the tone of an album that plays like a diary, chapter by chapter of a passionate, volatile relationship that (presumably and hopefully) has ended. Are We There is the confessional result of the death of a love that left open wounds and unanswered questions.
"Tell me when, tell me when is this over?/Chewed you out. Chew me out when I'm stupid," she bellows on "Tarifa," unequivocally one of the most poignant lines off the album; anger splinters through, appropriately in the middle of the album, as if she's ticking off the pyschologist-diagnosed grieving process cheat sheet.
Are We There is Van Etten's fourth LP and the first that she recorded and produced herself—without the aid of the National's Aaron Dessner, who produced her last album, Tramp. The shift is obvious. Van Etten, a New Jersey native in her 30s, has forgone the attempted folk-pop quality to her consistently confessional style, and instead replaced it with more moody, absolutely agonizing naivety.
"Help me deserve you," she moans within the first few lines of "I Love You But I'm Lost," exposing her innocuousness, creating an almost pathetic pang that resonates gut-wrenchingly deep. This woman has been hurt.
"Tears stain on the last page/Better leave 'em/Time will tell and I'll be back." She forces the words out of her lungs, elucidating that she knows she'll come back to this harmful, sadistic relationship, despite knowing better.
Van Etten's lyrics read like 3 a.m. stupefactions, spilled and scribbled into a bedside notebook filled with heroic couplets, waiting to be swallowed by the night. Her musky, dream-drenched voice drips desolating sorrow—but never acrimony. "At the bottom of a well, I'm reliving my own hell/Someone throws the ladder down/Still don't know what I have found in our love," she huskily vibrates on the ambient, desperately hopeful track "Our Love."
What makes Van Etten so profound is her utter self-awareness and self-assurance with her voice and piano playing. From whispering lines such as "All I ever wanted was you," to vibratos and tremolos, she goes from naked to absolute skin and bones.
She rises to a level of elegance and poise, despite the obvious agony pouring from her soul. Instead of wallowing in her misery, Van Etten questions and answers herself honestly, regardless of the results. She does what the human race has such an excessively hard time doing: seeing ourselves for who we are, accepting our mistakes, and making something beautiful out of our pain to grow out of it, and—more importantly—above it.
Are We There is sadistically sensual; Van Etten's raw voice cuts like quick strokes from a short blade with the National-inspired melodies that are smooth and clean. But with lyrics such as "Break my neck so I can't run to you/Cut my tongue so I can't talk to you," it's impossible to not feel utter empathy—not sympathy—for Van Etten. And it's impossible not to keep coming back for more.
Sharon Van Etten – Are We There tracklist:
"Afraid of Nothing"
"Taking Chances"
"Your Love Is Killing Me"
"Our Love"
"Tarifa"
"I Love You But I'm Lost"
"You Know Me Well"
"Break Me"
"Nothing Will Change"
"I Know"
"Every Time the Sun Comes Up"