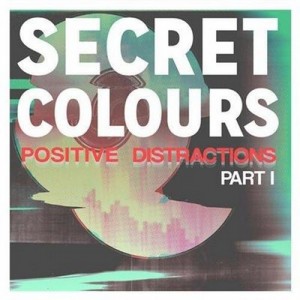 Release Date: February 4, 2014





Secret Colours are flexing their psychedelia at just the right time. In today's indie/alternative landscape, the rebirth of '60s psychedelic  and Britpop is at a high, with groups like Tame Impala and Foxygen proving the genre is alive and well.
And although not for everyone, psych-rock like that of Secret Colours' new release takes the past and repurposes it for the present.
Secret Colours, having released their self-titled debut in 2010 and their sophomore effort Peaches in 2013, have consolidated from a six- to four-piece, shedding some skin for a "leaner, meaner" sound.
Here on Part I of their Positive Distractions album (Part II is to be released later in the spring) is a mixture of sounds ranging from late-career Beatles to modern influencers like Kurt Vile and Christopher Owens.
These are lofty comparisons, but Secret Colours don't reach the same levels of mastery.
The highlights of the short, six-song release fall in the middle. The first single, "It Can't Be Simple," is one of Positive Distractions I's strongest tracks, lending from the page of Britpop itself. A catchy hook is surrounded by a defined organ cornerstone and a funky bass line, crescendoing and falling out at just the right times to create a dynamic and fluid track.
"Take it Slow" is the strongest song on Positive Distractions I, starting with a flanged guitar and a hazy, relaxed vocal line and strong sense of itself. The track could easily fit on Vile's Smoke Ring for My Halo—a soft, but solid psych-infused strum-along that belongs on the soundtrack to a weekend afternoon walk.
The rest of the album, though, suffers from expected stereotypes of the genre and a general lack of excitement or dynamism. Perhaps, in their aims as a musical ensemble, that is precisely what Secret Colours are trying to achieve, but it just seems a little too complacent on tracks such as "Get to the Sun" and "Rotten Summer."
This dictionary definition of a retro style feels a little too uninspired.
Secret Colours know how to make a certain type of record, and they aren't bad at it, but there's nothing novel being brought to the table.
Positive Distractions I has its strengths as a traditional rock or psych record, but doesn't do too much to stand out individually in the sea of reverb and smoke that we as music listeners are attempting to cross, serving more as doldrums  than lighthouses. The album is stronger, bigger sounding than their last release, Peach, but still lacks a certain originality in sound and in theme that propels it to another, more standalone level.
Secret Colours – Positive Distractions I tracklist:
"City Slicker"
"It Can't Be Simple"
"Take It Slow"
"Monster"
"Get to the Sun"
"Rotten Summer"