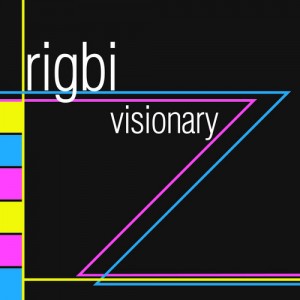 Release Date: February 18, 2014





Rigbi's new EP, Visionary, has a title that is a bit of a misnomer. The group, local natives of North Jersey, has played together for the better part of 14 years, but went official in 2011. And while each member's work on the EP is telling of their musical ability and chemistry as a group, their approach to indie rock and songwriting is nothing close to "visionary."
The EP is good, sure, but nothing makes it stand out in the world of indie rock, not even in the world of Jersey indie rock. The group's bio claims it's sound is a derivative of some amalgam of Keane (whose pop sensibility they lack), Weezer (perhaps in a world where Rivers Cuomo disavowed distortion from 1993 through the new millennium), and Vampire Weekend (not even close).
This isn't to say that Rigbi makes bad music—on the contrary, in its best moments the group is gloomily bright, musically provoking, and emotionally engaging. But the band's own descriptions of itself completely misguide the listener as far as sonic expectation, and moments of musical brilliance and connection are few and far between on Visionary.
The biggest misstep made by Rigbi is in the opening track, "Come Up," where its otherwise airy brand of indie rock is replaced by a tired drum machine beat and an abrasive buzz saw synth.
Nowhere else in Visionary does this sound, or any like it, emerge, causing both a jarring shift in flow and a complete misdirection of sound. The three tracks that serve as breaks throughout the EP (at both ends and in the middle) feel more like incomplete tracks than transitions in such a short piece of work. Of these, the title track is the best poised to have become something fully developed, and something that Rigbi could have used to express its voice.
Despite its misgivings, Visionary does end on a good note with the highlight "Leaving Home." The track slowly, delicately drives through as the band finds the sweet spot that it's been looking for throughout the EP. The lamentation that "everybody is leaving home" sounds both sad and optimistic, creating the emotional depth that a lot of Visionary tries to reach but just falls short of.
Of the remaining tracks on Visionary, none really stand out in any way. "Take the Blame" is the most fully developed, with interesting guitar riffs and a fully developed sound, but suffers from strained vocal work and a tempo-shifted coda that would serve better as another track altogether.
Again, "It's Elementary" starts out well enough, with a dynamic guitar break and a driving rhythm section. But in what seems to be Rigbi's seminal misstep, vocal strain, both in range and in forced rhythmic placement ("its e-le-men-tar-y") feels awkward. In addition, the originally smart groove of the musical intro is flooded by the poorly placed high pitches of distorted guitar that, in its blockishness, negates the original groove. Even if it is for just a couple of seconds, it's enough to jar the flow of the track.
To be perfectly honest, Visionary seems tried. Sure, the talent and the production are there, but what it has in those areas, it lacks in synergy and flow. Awkward in its use of transition tracks, Visionary doesn't help itself by sabotaging Rigbi's otherwise unproblematic brand of indie rock with poor instrumentation choices and attempted emotional depth.
There is a lot of potential in Rigbi's sound, as seen in EP highlight "Leaving Home," a simple but strong testament to the abilities of the group. But Visionary just doesn't click, and Rigbi's effort falls short. Still, with musical and lyrical capabilities present,  don't count the group out of future evolved releases.
Rigbi – Visionary tracklist:
"Come Up"
"It's Elementary"
"Hostage"
"Visionary"
"Take the Blame"
"Leaving Home"
"(((Hearts in a Row)))"