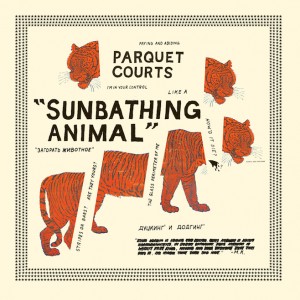 Release Date: June 3, 2014





Parquet Courts look too well kept to be garage-punk—too healthy, with too many flannel-cardigan combinations. Nonetheless, the impending poster boys of American "punk" will be heard, undoubtedly, blaring through brand new Crosley's (courtesy of Urban Outfitters) in trendy studios on hot summer nights.
A Brooklyn basement band that went from playing DIY shows in garages and sweaty apartments to making a guest appearance on The Tonight Show with Jimmy Fallon, these mid-to-late 20-year-old deadpan punk boys are taking advantage of the rise of emotionless Tumblr girls and post-punk college kids. Drenched in unwarranted angst, Parquet Courts' timing is spot on: they are exactly what every hipster wants to add to their vinyl collection.
Fittingly, their third studio album, Sunbathing Animal, was released under the New York-based label What's Your Rupture?, specializing in small-scale vinyl records, as well as Mom + Pop Music, best known for producing artists such as Cloud Nothings and Wavves.
Though Parquet Courts are blatantly and nauseatingly trendy, they're trendy for a reason.
The monotonous Andrew Savage sounds plagued with ennui while droning about relatively complex issues. "Most freedom is deceiving/If such a thing exists," he sings on the second verse of "Sunbathing Animal." "When I was young, I knew but didn't care/Faces change and shape to represent the same old beast." He exposes the observations of a bonafide wallflower, but they're buried in pretension. Yes, Savage is that psuedo-intellectual douche holding an original copy of Catcher in the Rye.
The third track, "Dear Ramona," is the epitome of a dusty, blues-influenced, punk love song. "This lady is a hypnosis poet and when she speaks, her words weep like rain," the slightly demeaning ballad begins. Savage almost affectionately sings—truly sings, for the first time on the record—"Whoever she might be going to bed with/You can read about that in her Moleskin," before the chorus ends rather abruptly. The punky angst toward Ramona is brief, almost like an inside joke between the two. This falls flat, of course–it's too personal. There's no room for relation to Savage when everything is a private poem.
However, the rest of the band—singer-guitarist Austin Brown, bassist Sean Yeaton and baby brother Max Savage on the drums—virtually make up for the excessively astute, in-your-face, contrived intellect that are the lyrics of Sunbathing Animal. But not quite. Lou Reed-inspired punk plus 1990s indie grunge meets harmonicas, resulting in a loud, confusing (although quite rhythmic and precise) lack of consistency.
Sunbathing Animal is instantaneously anticlimactic as well as anxiety inducing, an interesting feat. Raw guitar plucks and pulls encourage listeners to hold their breath, but flat lyrics leave faces turning blue—the first time around, at least. Parquet Courts' efforts at lyrical storytelling is cute ("Instant Disassembly" may be the best attempt on the album), but in vain. The stories are too deeply embedded in stoner, slack rock pretension to have any distinctive depth for the average listener. Perfect for Lollapalooza.
Parquet Courts – Sunbathing Animal tracklist:
"Bodies Made Of"
"Black and White"
"Dear Ramona"
"What Color is Blood"
"Vienna II"
"Always Back in Town"
"She's Rolling"
"Sunbathing Animal"
"Up All Night"
"Instant Disassembly"
"Ducking & Dodging"
"Raw Milk"
"Into the Garden"