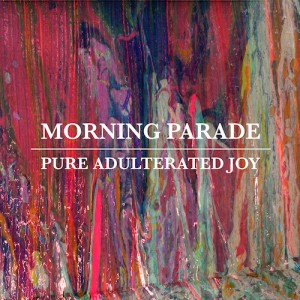 Release Date: May 6, 2014





Losing a bit of the spacey atmosphere explored in its debut and replacing it with more rock-oriented riffs, Morning Parade takes a comfortable step away from the past on next month's Pure Adulterated Joy.
The Essex quintet stayed close to its original sound, however, still kicking out radio-friendly synth pop/alternative rock tracks that will once again reach a wide fan base. This is largely thanks to the band's undeniable catchiness and singer/guitarist Steve Sparrow's silky voice.
Pure Adulterated Joy is an entertaining album that bridges the gap between chart-topping hits and quality music—two things that don't usually go hand-in-hand. The songs are fun, but still have the occasional lyrical message and show off quality musicianship.
Take the lead single, "Alienation." The staccato screech of the keyboard drags you in as Sparrow's vocals swoop in for the kill, giving the song some character. Morning Parade offers a valuable insight through the message it brings up, which is trying to find comfort amongst all the wrong in the world.
"Alienation" talks of progression from the past, which is emphasized in the chorus line, "Everything you are, everything you were, everything  you've been is not everything you'll be."
Besides the lyrical content, there's a constant attention to instrumentation. It's clear that the five-piece stretches further than a simple brand of catchiness, and throws a lot of focus on diversifying the album with complex riffs and sequences. A lot of this is done through pianist Ben Giddings and lead guitarist Chad Thomas, both of whom are prominent in most every song.
"Car Alarms & Sleepless Nights" shows off both of the musicians, starting with Giddings' tranquil piano over drummer Andrew Hayes' groovy drums. Sparrow once again adds to the beauty with his swooning vocals, until the guitars come in like a punch to the face. Bassist Phil Titus teams up with Sparrow's guitar to amplify the gritty riff, and Giddings contributes with one of his many guitar solos while shrieking sound effects are spewed about. The song ends with the quirky, meaningful line that shows the complicated relationship between Sparrow and the "parasite" in the song when he asks, "Would you piss on me if I were on fire?"
But Pure Adulterated Joy is not all smiles and chocolate. "Love Thy Neighbor" and "Autoinjector" stray from more radio-friendly songs like the title track and "Reality Dream," which are more jovial than these powerful rock songs. "Love Thy Neighbor" is the heaviest track on the album, driven a lot by Hayes' spastic drums and Sparrow's unexpectedly gritty vocals alongside robust guitar riffs and spontaneous beat drops, while "Autoinjector" has some of the same themes and some killer mini-solos courtesy of Giddings.
Still, Pure Adulterated Joy's most triumphant moments are the bright, atmospheric tracks that Morning Parade pulls off so perfectly.
The albums ends on "Culture Vulture," the best song on the exceptional sophomore release. It is by far the most lyrically deep, dissecting all that is wrong in our backwards society that puts too much focus on money and the pursuit of attention, among a slew of other things. The chord progression and Sparrow's vocal melody make for an emotionally stimulating track that makes you evaluate life, while lines like, "Everyone knows everyone and everybody's goings-on/And everyone wants everyone to try to fuck to get along" are harsh realizations about a culture that cares about all the wrong things.
Morning Parade has hit the sweet spot with Pure Adulterated Joy. It exists at a perfect equilibrium between carefree songs that appeal to the masses and serious ones about real-world issues with empowering musicianship. Either way you look at it, it's clear that Morning Parade has accomplished something great.
Morning Parade – Pure Adulterated Joy tracklist:
"Shake The Cage"
"Alienation"
"Reality Dream"
"Love Thy Neighbor"
"Car Alarms & Sleepless Nights"
"Autoinjector"
"Sharing Cigarettes"
"Seasick"
"Pure Adulterated Joy"
"Culture Vulture"