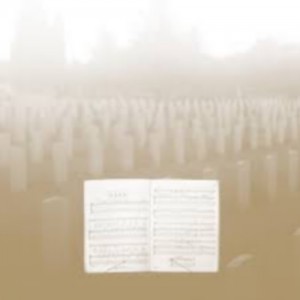 Release Date: January 21, 2014





Mode Moderne caught some attention with 2009's Ghosts Emerging, an admirable approach to blending shoegaze backgrounds with a soft drone of a voice, creating a goth-lined treasure trove of cloudy-day-at-the-beach music.
Vocalist Philip Intile may certainly bring thoughts of Paul Banks, or even more so Ian Curtis; it's that familiar croon flowing through Mode Moderne's dream-pop soundscapes that makes its newest release so noticeable. The melancholy is there, sure, but it is married to a calm fortitude that comes forth on Occult Delight.
Occult Delight is an album for the initiated, but the beauty of it comes from its increased embellishment of all things gloom.
That embellishment—which can, and usually does, become the main detraction to an album like this by turning an album of discrete songs into one long blend of guitar fuzz and jangle—actually draws out the group's dynamism.
Lead single "She, Untamed" is the best example of Mode Moderne at its peak, as a groovy rhythm section dances around darker timbres of guitar and melody.
Opener "Strangle the Shadows" belongs as effortlessly in an '80s alternative discothèque as it does in an indie dive bar on Brooklyn's Bedford Avenue, almost like a scuzzed-out version of Real Estate's stellar 2011 single "It's Real."
Its vast expanses of reverb layered on top of a driving tempo underline the gloom and doom orated by Intile: "No god in the sky, no devil beneath the sea, can force you into things/Your shadow must live and die, suffer beneath its own heavy sky/And they call that love."
Even sprightlier efforts like "Baby Bunny" work well, buttering the gloom with jumpier, aerated guitar and synth work.
For the most part, Occult Delight does a good job of interlacing aural confidence with disparaging lyricism—a worthy emulation of so many groups that Mode Moderne most certainly looks to as forefathers.
"Does he like me? Oh well. Does she like me? I can't tell anymore," Intile laments on "Come Sunrise," one of many Smithian snippets from Occult Delight.
While the album is as expectedly dour as any goth, emo, or mid-2000s indie group trying to replicate Joy Division's Unknown Pleasures is expected to be, there's an undercurrent of freshness to Occult Delight that will hopefully translate to more exposure for this standout Vancouver outfit.
Between despairingly wonderful lyricism and a deft hand at manipulating an already long established sound, Mode Moderne may very well be on to something here. Let's just hope that everyone else notices.
Mode Moderne – Occult Delight tracklist:
"Strangle The Shadows"
"Grudges Crossed"
"Thieving Babies' Breath"
"Severed Heads"
"She, Untamed"
"Occult Delight"
"Times Up"
"Unburden Yourself"
"Dirty Dream #3"
"Baby Bunny"
"Come Sunrise"
"Running Scared"