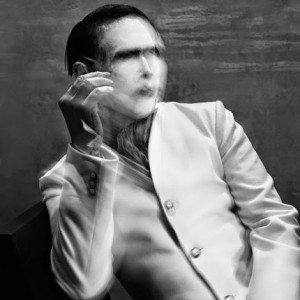 Release Date: January 16, 2015





Marilyn Manson has been challenging audiences with his abrasive hybrid of shock rock and industrial metal since the mid-90s, but until recently his gothic aesthetic and Satanic-esque lyrics were filtered through major record label Interscope. In 2009 however, Interscope dropped Manson due to low sales of his seventh album, The High End of Low. Free from major label confines and allowed to run wild on his vanity label Hell, etc., Manson's next release was 2012's Born Villain, an album laced with so many Biblical allegories and Shakespearean references that even his own fan-base had trouble keeping up.
Three years later, Manson has regained the quality that made him an icon: the balance between envelope-pushing lyrical concepts and the simple boldness of heavy metal. By delivering some of his most unique songs to date with lyrics that are both poetic and accessible, The Pale Emperor epitomizes the best of the band's post-2000 sound.
Lead single "Third Day of A Seven Day Binge" delivers straightforward, no bullshit Manson with a deliberate pace set by drummer Gil Sharone and grounded by Twiggy Ramirez's signature sludgy bass, recreating the confidently dirty strut of Manson classics like "Dope Show." "Third Day" reminds listeners of the intellect behind the mess with insightful lines like, "I can't decide if you wear me out or wear me well/I just feel like I'm condemned to wear someone else's hell."
Lyrics are the crux of any Manson album. No record of his would feel complete without an outward rejection of organized religion, and "The Devil Beneath My Feet" fills that flawlessly with bold lyrics, "I don't need a motherfucker looking down on me/Motherfucker looking down on me." Although it doesn't appear until more than halfway through The Pale Emperor, "The Devil Beneath My Feet" is the first track to feature prominent profanity.
While the lack of swearing in the first half of the LP is an anomaly for the self-proclaimed God of Fuck, it proves that Manson's poeticism can stand on its own, without the crutch of excessive cursing.
The recently rediscovered balance in Manson's lyrics have lead to some of his most unique songs, including "The Mephistopheles of Los Angeles," The Pale Emperor's most memorable track. The impact of repeated line, "Are we fated, faithful, or fatal?" grows as Manson's voice gradually progresses from a scratchy quiver to a hard-hitting scream.
The acoustic version of "The Mephistopheles of Los Angeles," titled "Fated, Faithful, Fatal," unearths the self-pitying line, "I'm feeling stoned and alone like a heretic/and I'm ready to meet my maker," exposing the humanly vulnerable side of Manson that make his scratchy screams so damn relatable. Meanwhile, the main version bellows this admission of weakness over head-banging distortion, turning a moment of emotional frailty to an opportunity for catharsis. The liberating chorus is followed immediately by Manson's restrained, disdained delivery of the repeated lyric, "Lazarus got no dirt on me." This bold transition makes the track a standout, even among Manson's two-decades-long catalog.
The Pale Emperor concludes its goth rock regime with "Odds of Even," a heart-wrenchingly honest song of self-reflection centering around the line, "My dagger and swagger are useless in the face of the mirror when the mirror is made of my face." Besides demonstrating Manson's deft wordplay, these soul-bearing lyrics make "Odds of Even" a satisfactory closer, and are even more powerful in the acoustic version, titled "Day 3."
With powerful tracks both acoustic and electric, The Pale Emperor solidifies the band's ability to produce high quality Manson albums without the filter of a major label. By demonstrating the best of Manson's sound with distinctive tracks and balanced lyrics, the album is destined to become a fan favorite.
Marilyn Manson – The Pale Emperor tracklist:
"Killing Strangers"
"Deep Six"
"Third Day of A Seven Day Binge"
"The Mephistopheles of Los Angeles"
"Warship My Wreck"
"Slave Only Dreams To Be King"
"The Devil Beneath My Feet"
"Birds of Hell Awaiting"
"Cupid Carries A Gun"
"Odds of Even
"Day 3"
" Fated, Faithful, Fatal"
"Fall of The House of Death"