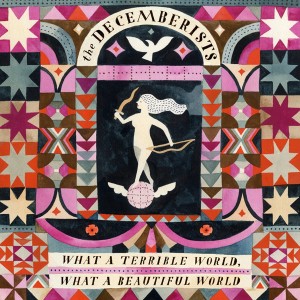 Release Date: January 21, 2015





Colin Meloy—lead singer and mastermind of the prolific Decemberists—used to be focused on the characters and the worlds constantly streaming through his head, like a modern, musical Tolkien.
Now, with the newly released What a Terrible World, What a Beautiful World, he seems to be looking increasingly outward before chewing ideas over internally. Rambling tales of Chinese trapeze artists and vengeful, orphaned sailors have given way to more present reflections on fame, family, and tragedy.
This latest installment still sounds like the Decemberists (how could it not, with Meloy's distinctive vocals and the old-timey-forest vibe that accompanies nearly every song?), and it contains more hits than misses, but it somehow fails to feel like a cohesive album. What's worse, it lacks that fundamental, joyous spark that makes even the darkest Decemberists song an entertaining ride.
"Philomena" is perhaps the only track on What a Terrible World that feels like something from the band's heyday.
Like an outtake from Rocky Horror Picture Show, the song begins with sickly sweet "ooh"s and "ahh"s before Meloy dives into the perspective of a horny (and sexually generous) teenager who just wants to go down on his girlfriend.
Other tracks are too vague to be considered proper stories, but nonetheless have the exuberant heft of a good Decemberists song: "The Wrong Year," which could have replaced "Make You Better" as the lead single; "Easy Come, Easy Go," with its ominous, gather-'round-the-fire melody; and the closing track, "A Beginning Song," that feels at once painfully vulnerable and elated, like standing on the precipice of a life-changing moment.
And, in the spirit of vulnerability, What a Terrible World sees Meloy reflecting on the outside world more clearly than ever. In the opening track, "The Singer Addresses His Audience" (which Meloy says is not directly from his perspective), he contemplates the balance between making art for oneself and rewarding fans' loyalty, singing, "We know you built your life around us/…/But we had to change some."
He strips down even further on "12-17-12." A response to the Sandy Hook shooting, the simple, strumming song is addressed to Meloy's son, who was in first grade at the time of the tragedy. "What a gift, what a gift you can give me," he sings, "Here with my heart so whole while others may be grieving/Think of their grieving." In a final plea for understanding, the song ends on the line that inspired the album title: "Oh, god, what a world you have made here/What a terrible world, what a beautiful world."
With such potent ideas springing from the album's best moments, other tracks—such as "Lake Song," "Carolina Low," "Cavalry Captain," and "Better Not Wake the Baby"—seem unnecessary or simply misplaced (the latter's brash harmonica makes it sound like an outtake from the previous Decemberists album, The King is Dead). None of these tracks are bad, per se, but for an album so long in the making, What a Terrible World has a lot of fat left untrimmed.
Of course, The Decemberists at their worst still make music at its best. Creativity like theirs has to be held to a higher standard, and though What a Terrible World, What a Beautiful World will likely be one of the best albums released in 2015, it's a bit of a disappointment to fans who've waited four long years for their fix of nerdy, fantastical, fun Decemberists.
The Decemberists – What a Terrible World, What a Beautiful World tracklist:
"The Singer Addresses His Audience"
"Cavalry Captain"
"Philomena"
"Make You Better"
"Lake Song"
"Till the Water's All Long Gone"
"The Wrong Year"
"Carolina Low"
"Better Not Wake the Baby"
"Anti-Summersong"
"Easy Come, Easy Go"
"Mistral"
"12-17-12"
"A Beginning Song"