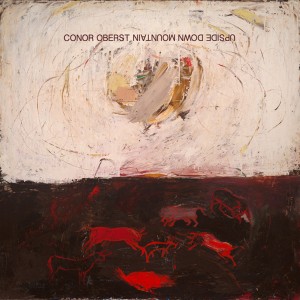 Release Date: May 20, 2014





If Bright Eyes had never existed (or, at least, never released I'm Wide Awake, It's Morning), would Conor Oberst have a following? It's questionable.
Oberst is 34 years old, and has finally stopped pseudo-nihilistically singing about the depressing difficulties he's faced throughout all the masks he's worn, all the way from angst-ridden teenager to a feeble attempt as a prophet.
Flickers of emotional stability flash through on Upside Down Mountain, such as in "Hundreds of Ways," where he sings, "There are hundreds of ways/To get through the day." It's a good start, right? Oberst has signed to Nonesuch Records to release the solo album, which features Swedish sisters Klara and Johanna Söderberg, reminiscent of Emmylou Harris.
Vocally, Oberst has never been stronger. His trembles are no longer timid, but refurbished and self-assured—without the pretension found on The People's Key (2011).
Either he's outgrown his own obstinacy and inability to see past his own nose, or he realized that's not how records sell.
Upside Down Mountain is Oberst's first solo release in five years—much more subdued and refined than his self-titled Conor Oberst (2008). Upside Down Mountain is an appropriate second step following the self-titled LP, if not a few leaps. He's more polished through his lyrics and melody.
The opening song, "Time Forgot," seems to set the tone for the album, illuminating the growing pains Oberst went through during the transition from angst-ridden and drug-addicted "rock" artist to married, closer-to-40-than-20-year-old.
And even though it's nearly impossible to tell what the hell Oberst is singing about (for the most part), in the second track, "Zigzagging Toward the Light," you can't help but sway and sing along with the back-up vocals by Johnathon Wilson—who's also responsible for playing the guitars, bass, drums, percussion, and keyboards—basically everything other than what Oberst does: sing cryptically beautiful lyrics that make the heart a little heavier with each listen.
The third track, and perhaps the most pertinent, is the solidifying piece of evidence that Oberst has, in fact, grown up. He croons, "Don't look so forlorn, Don't you look so scared/Don't get so upset/This world was never fair."
It's hard to imagine that this is the same man who once sang about the unjust realities of the world in "A Perfect Sonnet."
Even more spectacularly, Oberst tremors, "Maybe no one really seems to be the person that they mean to be/I hope I am forgotten when I die." He's no longer singing about the desire to be remembered as something—anything—but accepting his own humanity and mortality.
Of course, with lines such as, "Freedom is the opposite of love/You'll never keep it through the paranoia," on "Lonely At the Top," the young, wide-eyed Oberst shines through, just long enough to remember where he's been and how far he's come.
Upside Down Mountain is far better than anticipated. But, painfully true, Oberst's hamartia is his own past; it's impossible to associate the legendary Conor Oberst with anything other than Bright Eyes.
Conor Oberst – Upside Down Mountain tracklist:
"Time Forgot"
"Zigzagging Toward the Light"
"Hundreds of Ways"
"Artifact #1"
"Lonely at the Top"
"Enola Gay"
"Double Life"
"Kick"
"Night at Lake Unknown"
"You Are Your Mother's Child"
"Governor's Ball"
"Desert Island Questionnaire"
"Common Knowledge"