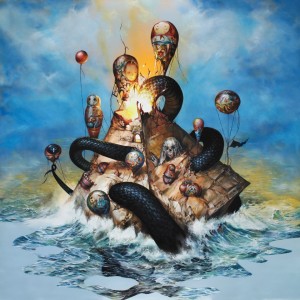 Release Date: November 24, 2014





Circa Survive has been entrancing and perplexing fans for a decade, and it does no different with it's fifth studio album, Descensus. Aspects of former albums are interwoven into a 10-track album that experiments with its sound without ranging too far away from the familiar. Descensus teems with intricate instruments and revelatory lyrics all while tackling a much heavier tone creating an album showing Circa Survive's growth as a band that will please long-time fans.
The Philadelphia based band, formed in 2004, creates a sound noticeably heavier than on previous albums. An array of frantic guitar and pounding drums thunder out over vocalist, Anthony Green's, complex lyrics in album opener "Schema." Easily the heaviest song on the album in terms of sound, "Schema" makes use of sporadic guitar playing, similar to that of Pink Floyd, as Green wails, "Pull out your teeth / There's nothing left / At all / Immediately I feel relief from dragging this vessel around / Exit the stage you keep sleeping in a cold white room."
As "Schema" rumbles, "Child of the Desert" creates an equally heavy song but by use of different instrumentation techniques. The album opener is immense via percussion's role in the song, while "Child of the Desert" uses the guitar's intricacy to create a very rushed and angsty tone.  Descensus takes a turn to a sound more fluid, but still invoking a heavy sense following the minute solely instrumental track, "Who Will Lie With Me Now." The drums flow fluidly as they softly bounce over the crooning guitar, Green heard "oohing" in the background creating a melancholy, withdrawn quality to song that breaks the previously heavy tone of the album.
Though Descensus has elements fans aren't accustom to hearing from Circus Survive, the band doesn't stray far from rhythms and chords fans won't have trouble identifying from previous albums.
The ambiguous, yet insightful, lyrics signature to the past four albums are also included in Descensus, an element both long-time and new fans will appreciate.
Green hauntingly wails during the 6-minute ballad, "Nesting Dolls," a song that makes minimal use of percussions, relying on subdued guitar playing and Green's vocals to get the message of the song across. The shift in sound, following shortly after "Who Will Lie With Me Now," is one of a broken and exposed man as Green sings, "You shouldn't stay / We'll never change / And I can't recognize you at all / Nothing's the same / It's all been arranged in a way / Keeping me out / I don't want to feel like this ever ever ever ever again."
That brokenness reflects the self-proclaimed dark time in Green's life that can be attributed to the heavier tone of Descensus. A tone that's easy to located on the album, but one that gives Circa Survive a variety in sound it hasn't attempted before. Being around for as long as Circa Survive has could result in complacency and the band's decision to stick with sounds that are sure to please listeners, but Descensus' unexpected sound paired with moving lyrics echoing Green's struggles and frustration create a captivating fifth studio album.
Circa Survive – Descensus tracklist:
"Schema"
"Child of the Desert"
"Always Begin"
"Who Will Lie With Me Now"
"Only the Sun"
"Nesting Dolls"
"Quiet Down"
"Phantom"
"Sovereign Circle"
"Descensus"