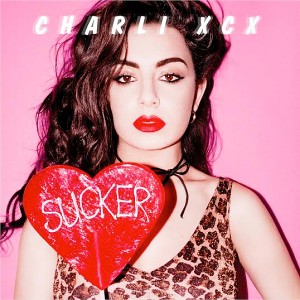 Release Date: December 15, 2014





Breaking into the American Top 40 can be hard for international artists, but with hit "Boom Clap," and a feature on Iggy Azaela's "Fancy," English pop artist Charli XCX has been consistently on familiar rotation. Her radio presence and performances at award shows like the AMAs and VMAs have helped sustain buzz about her third studio album, SUCKER. Packed with boisterous beats layered over catchy lyrics, the album seamlessly merges sounds of '80s punk-rock and pop in 13 tracks. Though at times lyrically repetitive, SUCKER serves as a soundtrack for the stereotypical 2014 rebellious teenager, and generates a rowdy mash of pop-punk sounds, enhancing the passionate undertones of the album.
Pulsing electro-pop elements mesh with aggressive rock sounds to create a jarring, brash album that's fitting for a rambunctious audience. "Break the Rules" opens with distorted guitar playing, creating a scratchy tone before Charli XCX begins singing, "Electric lights/Blow my mind/You'd feel all right/Never stop it's how we ride coming up until we die." The guitar amplifies as low, pounding drums are introduced and throbbing techno music ensues, drops, and is replaced by altered brass instruments ringing out over rumbling bass.
Much of the album makes use of taunting lyrics layered over gritty guitar and drums or energetic trills and bings for '80s-inspired pop sounds.
With help from Weezer, John Hill, and Stargate, a cohesive sense of disarray spans all 13-tracks and makes SUCKER's chaotic sound work.
Though the album had an earlier intended release date, Charli XCX took to twitter following the success of "Boom Clap" to explain to her fans that she wanted to give SUCKER proper attention before it was released. Some questioned the decision wondering whether it wouldn't be best to release the album with the single's success, but the decision might have been pretty smart. Just look at all the appearances Charli XCX has been making recently. She's been spending the months prior to SUCKER's release promoting the album by performing at an array of festivals and awards shows, dropped an additional four singles, and filmed their respective music videos. Pushing the release of SUCKER back might have annoyed a few fans, but Charli XCX was able to inspire prolonged anticipation.
"London Queen," Charli XCX's version of a "coming-to-America" track, opens with drum snares before bursting with crashing guitars and aggressive drums. Layered over chanting lyrics, "When I'm driving on the wrong side of the road/I feel like JFK you know/I never thought I'd be living in the USA/Doing things the American way," the track explodes at a fast-pace with sporadic sounds of clapping hands and stomping feet, while maintaining a lively, pop tone.
The entirety of SUCKER is jarring and brash, but the lyrics and well-layered tone of the album make it catchy rather than distracting.
An "I don't care" attitude blankets SUCKER. Whether the subject be break ups, experiencing America, or selfishly going about life, the album doesn't skip over the messy or controversial bits. At one point, Charli XCX attempts an anthem encouraging youthful recklessness in "Die Alone," a song that might blare from car windows during summer nights with lyrics, "Climb to the top/Jumping like we're about to fly/No one's living/'Bout to blow this ceiling/When we turn it up to 10/Wake up in the morning/Gonna do it all again."
That adventurous outlook is mirrored in the gaudy and outrageous "Gold Coins," where she sings about offshore bank accounts and escaping into the night in a private jet. When she sings, "Gold coins everywhere/Dollars up in the air/It's a billionaire's love affair/Gold coins out the window/Money pours like the rain fall/and I spend it like I don't care," it's difficult not to laugh at the ridiculousness of the lyrics, yet you still might find yourself mumbling them hours later.
The irresponsible, and at-times messy, themes of SUCKER might alarm some, but Charli XCX's third album functions as a real representation of young-adults frustrated with mediocrity and societal pressures. They drink until they black-out, they smoke to forget, and they make regrettable choices, and SUCKER embraces this irresponsibility with catchy hooks and lyrics. The album's take on growing up is one inevitably appreciated.
Charli XCX – SUCKER tracklist:
"Sucker"
"Break the Rules"
"London Queen"
"Breaking Up"
"Gold Coins"
"Boom Clap"
"Doing It"
"Body Of My Own"
"Famous"
"Hanging Around"
"Die Tonight"
"Caught In the Middle"
"Need Ur Love"