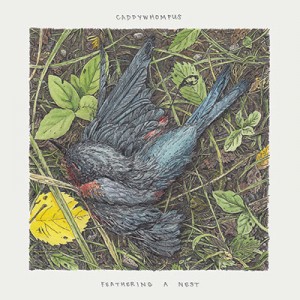 Release Date: November 11, 2014





Drawing inspiration from its lively and colorful hometown of New Orleans, Caddywhompus creates an album signature to NOLA's musical niche with Feathering A Nest. The 6-track release is similar to the band's previous creations; the lyrics are barely audible while guitar and drums angrily bellow out. The energized rock components of Feathering A Nest highlight the duo's skills, but ambiguous lyrics and overpowering instrumentation depreciate an album teeming with potential.
Listening to Feathering A Nest feels like a roller-coaster ride. Each song transitions at least once or twice in a matter of minutes. Some songs vary in degrees of heavy guitar and drums thundering out, while others transition from subdued electric guitar playing to aggressive pounding and strumming. Feathering A Nest sounds as though it's been crafted on the foundations of frustration and angst.
"Stuck" begins with energetic and cheerful guitar playing and minimal percussion elements, creating an indie-rock feel, before clashing instruments boom out over vocalist Chris Rehm. "Stuck" quickly shifts back to the merry playing before a pounding, yet rhythmic, guitar takes over, and the muffled lyrics move to wailing on beat with the guitar's slamming. Then the guitar's aggressive roar suddenly withdraws and is gently plucked for some time before, in a last burst of energy, the guitar slams out its final chord and brings the song to an end. The track is a complete chaotic whirl.
That rapid transition from one sound to the next isn't specific to "Stuck"—the final track, "Layers," personifies the entire album in nine minutes.
The range of sounds is wide, with light-hearted plucking, angry strumming, and meticulous rhythmic patterns, which all randomly speed up and slow down. At times, the music stops completely, leading one to believe the song has finally ended, but the aggressive thunder returns from seemingly nowhere.
The chaos and emphasis on heavy guitar and drums on Feathering A Nest is a sound characteristic of NOLA-based bands, and once expected, can become endearing and telling of the band's talents. Take the music created by Donovan Wolfington and ALL PEOPLE, both bands that formed and have created music in the buoyant culture of New Orleans. While guitar and drums have a heavy presence in both band's music and the lyrics articulated, there's a more well-rounded quality to Feathering A Nest that shows Caddywhompus has the potential to produce compelling and engaging music.
It's obvious Caddywhompus' focus is more on the music than the lyrics. For much of the album, the guitar and drums overpower and make any accompanying lyrics indistinguishable to listeners. Select phrases and choruses can be understood, to an extent, but it sounds like Rehm placed focus on ensuring his "oo's" and his "oh's" enhanced the instrumentation, rather than making his lyrics understandable.
It's commendable that Caddywhompus perfected variety on Feathering A Nest, but the duo, specifically Rehm, could have focused on clarifying the few lyrics included on the album. Rather than perfect instrumentation alone, Caddywhompus should look at its music as a whole. Identifying what parts need fixing would create a well-rounded final product with a deeper attraction for listeners.
Caddywhompus – Feathering A Nest tracklist:
"For A Litte Bluebird"
"Stuck"
"Company"
"Thirst"
"Entitled"
"Layers"