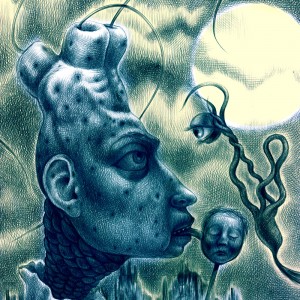 Release Date: July 7, 2014





"We really try to make sure there is something on our set list for everyone," explains Andrew Price, singer and bassist for Chicago rock quartet Big Black Bird. The band proves Price's statement, made in a summer Q&A with the Chicago Tribune, true.
In a digital age with more bands than fans to hear them, the mixing and matching of styles becomes a necessary tool. Still, few artists blend genres as boldly and with as much respect for each individual ingredient as Big Black Bird. Keeping constant the distorted energy of '70's punk, Big Black Bird powers through a variety of styles on its independent sophomore LP, A New World Wonder, relentlessly and masterfully melding genres to create one-of-a-kind songs.
Before showing off its ability to play multiple styles at once, BBB lays a thoroughly detailed punk foundation for A New World Wonder. The strongest evidence of this appears in "Korea," where Price takes a page straight from the Dead Kennedys' book by singing from the perspective of a political dictator. The menacing lyrics "I am the king of all kinds of people/I get everything I want for free/…/and if you think you wanna find religion/There's no room for God in me" are followed by an "oh yeah" chorus that conjures vivid Ramones images.
The true depth of BBB's punk fandom is revealed on the crunchy jam "Whatever It Takes" with a chorus featuring well-supported background "oohs" straight from the Surf Rock Starter Kit.
Lyrically a simple love song, "Whatever It Takes" layers soft, '70s punk lyrics over the crisp distortion of '80s punk, making it not only a sweet serenade, but also a celebration of 40 years of punk music.
Unfortunately, using punk as a common ground for stylistic experiments means using all aspects of punk, including flawed vocal performances. Price utilizes his smooth baritone range in BBB's verses, but the thick instrumentation in these verses often overwhelms Price's low notes, making lyrics difficult to distinguish ("Let It In, Let It Out," "Kevin's Song").
While the clarity of specific lyrics may be tough to make out, clarity of emotion is abundant on A New World Wonder. Big Black Bird's textural savviness is a constant upside to the LP. In the lush "Plastic Cover," acoustic and electric guitars strum together creating a vibrant, earthy sound. A twirling lead guitar riff permeates the verse, preventing its soft, harmonized vocals from becoming boring. While lesser groups often flub on lofty tracks, BBB stays on par with backing vocals from new member Maggie Ok, adding yet another texture to the band's palate.
While the band has clearly mastered the art of rock textures, Big Black Bird's greatest strength lies in its mixing and matching of musical styles, which produces a fresh, insightful, and cohesive album.
Standout "Black Holes," is a prime example, pouring the American folk rock melodies of the '60s into the jarring, unapologetically dissonant chord progressions of '90s grunge. Price closes the gap with poppy singing and the universal theme of hard work, reminding listeners "You can be anything you'd ever wanna be/if the pushing and the paperwork gets done."
A New World Wonder concludes with its most intriguing and pleasing sonic experiment, "So Confusing." A fingerpicked guitar opens the song, articulating defeated chords before falling into a lush, jazz rock-inspired groove. With a jumpy piano offering occasional, jazzy commentary, Price sings his tenor-range vocals more clearly than on any other track. Transitioning into (and out of) a distorted instrumental jam, BBB displays just how much ground it can cover in a single song, and how many styles play into its music.
Big Black Bird creates a varied, unique LP by linking a plethora of styles, and holding it all together with well-studied punk rock glue. The band plans to celebrate A New World Wonder with a September 26 Chicago show at Martyrs', 3855 N. Lincoln Ave., and there's sure to be something on the set list for everyone.
Big Black Bird – A New World Wonder tracklist:
"Let It In, Let It Out"
"Gasoline Shortage"
"Korea"
"Dream On"
"Uberman"
"Kevin's Song"
"Hard To Believe"
"Plastic Cover"
"Shove You Out"
"Black Holes"
"Whatever It Takes"
"So Confusing"