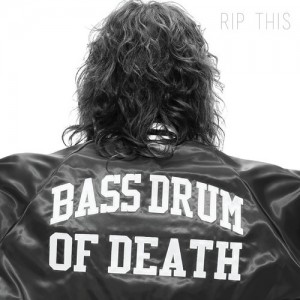 Release Date: October 7, 2014





Bass Drum of Death has built a following by unabashedly gut-punching listeners with high-energy rock that refuses to conform. The band's new album Rip This uses the same formula to conjure up memories of raw, early Nirvana or Mudhoney; music that overpowers crowds and creates furious swells of energy; but it also represents an unfamiliar shift for BDOD.
While Rip This still brings the familiar energy that drives BDOD's fanbase, the streamlined production and experimentation with its sound on this new record also represent BDOD's unrelenting desire to enter the mainstream market. Only one year removed from the self-titled album, Rip This finds BDOD more focused on creating a clean and polished product to reach beyond its current fanbase. Think of Rip This as your punk neighbor kicking in your door, but offering you milk and cookies.

For the uninitiated, the Mississippi-born Bass Drum of Death was originally the one man project of John Barrett, who used the driving rhythms of his drum to push the energy of his shows. Barrett's music was identified by its unrelenting assault on the ears, with crunchy guitars always cranked to level 10 and drums that did nothing but continue the attack. Recently expanded to include new members Len Clark and Josh Hunter on guitars, BDOD's new record Rip This does not stray far from the energy and passion of its self-titled LP. The new album pulls even more veracity and authority from not only the powerful drums, but also hammering guitar riffs filling each song.
From the opening track "Electric" it's clear the band draws on equal parts classic punk and contemporary rock with what else, but big, driving, heavy drums.
The groundwork for Rip This was laid while BDOD was on tour with Unknown Mortal Orchestra over the past year.  BDOD chose UMO bassist Jacob Portrai to produce the record, an indication the band wanted to, per their press release, make "an unapologetic rock album for people outside their normal fanbase." The band introduced the new record by releasing single "Left For Dead" and setting up tour dates all over the United States.  The choice of "Left For Dead" is an excellent introduction to Rip This as it deftly blends the dirty punk of early BDOD, with the cleaner production tones of this record. While some of the credit is likely due to Portrai, the tighter production of Rip This is more likely due to the precarious position of the band on the verge of mainstream acknowledgment with a desire to bridge any gaps.
"Everything's The Same" has a lighter sound reminiscent of The Cure. According to Barrett, the band wanted to play with some loud-quiet-loud versions of songs, as opposed to the normal cranked output. This particular effort is a good indication of what Barrett was shooting for, and while definitely a reach for BDOD, a well-crafted tune that still fits on an otherwise ripping album.
"Burn's My Eye" is much more distinctly BDOD. With an eye on punk influences, "Burn's My Eye" is a song with buzzing guitars that sees right through the heart of the record, and could stand proudly next to the Ramones' tunes of the early '80s.  "Out For Blood" is another indication of exactly where BDOD wants to be, with a pulsing drum line, powerful slap-backed vocals on top crashing guitars, and Barrett's screamed lyrics, "I'm coming round and I'm out for blood."
Bass Drum of Death claims to have "transformed rooms full of normally too-cool-to-rock indie crowds into a mob of sweaty, stage-diving maniacs."
Rip This may not recreate the wheel in terms of cutting edge or creative masterpieces, but it is a record that honors BDOD's roots, with tighter production and some timid experimentation, attempting to push the band into mainstream conversation. The energy of Rip This is contagious and will rip into ears just the way the band intended, with scorching guitars, reverb-drenched vocals and the familiar thump of Bass Drum of Death, ready to kick down doors.
Bass Drum Of Death – Rip This tracklist:
"Electric"
"Left For Dead"
"For Blood"
"Everything's The Same"
"Sin is in 10"
"Black Don't Glow"
"Burn's my Eye"
"Lose My Mind"
"Better Days"
"Route 69 (Yeah)"