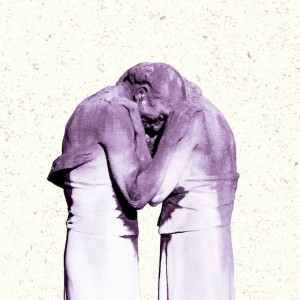 Release Date: June 17, 2014





The Antlers, best known for their 2009 record Hospice—a concept album set in a cancer ward—are no strangers to profound emotional probing. Lead singer and guitarist Peter Silberman's lyrics almost always come back to themes of grief, confusion, regret, and what we will all, eventually and ubiquitously, experience: death.
This time around, however, on their fifth album Familiars, the storytelling takes a sharp twist along its path. Silberman is no longer caught up in the process of grieving and repentance. Instead, Familiars reveals the endeavors of moving on, moving forward, and accepting mortality.
Self-produced and recorded, Familiars runs slowly, ushering through speakers like a lullaby. Languid horns are accompanied by fluttering keyboard strokes and subdued guitar plucks, creating a beautiful landscape for Silberman's intense, passionate vocals to drift through. Drummer Darby Cicci's jazzy undertones are a new tool in the Antlers' mystical toolbox, adding to Familiars' bittersweet theme.
The ambiance is more comparable to a dream than a particular noise—soft and jarring, cohesively cluttered with organs, basses, and harmonicas, setting the mood to an uncomfortable contentment.
The first track, "Palace," opens with flickering keyboards and steady symbols, followed by somnolent horns and Silberman's sooty, whispery moans. "But I swear I'll find your light in the middle/Where there's so little late at night, down in the pit of the well," he croons. The last hook is the first taste of the album's apparent (and newfound) optimism and strength, setting the mood for the tracks to come.
"Doppelgänger" is one of the better examples of Silberman's upward journey. "If you're quiet, you can hear the monster breathing…/Do you hear that gentle tapping?/My ugly creature's freezing," the second track begins, expressing that confronting your demons and accepting who you are is essential to personal growth.
Familiars succeeds in articulating encouraging, heroic couplets of inspiration, buried within the individual stories each song presents. "You will hate who you are/'Til you overthrow who you've been," Silberman coos on the fifth track, "Director."
Only three verses long, the last song, "Refuge," may be the most powerful one on the album. "You're already home and you don't even know it/You have a room you can return to, and you'll never outgrow it/See, you're already home when you don't know where to find it," Silberman's soothing vocals urge, backed up by wavering horns that stack emotions high.
He closes the album by singing, "It's not our house that we remember/It's a feeling outside it when everyone's gone but we leave all the lights on anyway," summarizing into one, achingly beautiful and nostalgic feeling, the message of Familiars.
We only have what we remember. Emotions, memories. These are what we are left with—and we must try to accept our mortality and vanquish human-natured tenacity.
Familiars is more than just a dream that listeners can slip in and out of. It's a world that demands utter devotion. Utter willingness to jump into the wistful, abstracted abyss without looking back—a cold plunge and a heavy burden. The Antlers may be asking too much of listeners. Sometimes, a simple dream is enough.
The Antlers – Familiars tracklist:
"Palace"
"Doppelgänger"
"Hotel"
"Intruders"
"Director"
"Revisited"
"Parade"
"Surrender"
"Refuge"