When Jarod Weldin and Kim Hart Weldin first started talking about forming their band Tape Waves, Kim didn't take the idea very seriously.
"We would talk about starting a band but I thought we were just joking," she says. "I would doodle little pictures of what our band was going to be, drawing album covers and making up band names, but Jarod had already started doing some some recordings. I learned the songs and put vocals on top of them and it just started actually happening. It started becoming a real dream."
Two years later, the Charleston-based husband-wife duo has released two 7-inches and one full-length record, Let You Go, full of dreamy, upbeat indie-pop songs that effortlessly evoke the very feeling that inspired them to write music in the first place: a desire to escape boring office jobs to write songs at the beach. 
Read our conversation with the beach-inspired indie pop band, then see how you can win some Tape Waves goodies, including free music.
Pop 'stache: How did you guys meet?
Kim Hart Weldin: We met working at a call center. I think we both gravitated toward each other in a "Help me! What are we doing with our lives?" way.
I felt like everyone else at work  had this group mentality, like, "Let's do group projects and eat cake!" and we just stared at each other in the back of the room. It was like we literally gravitated toward each other. We both had played music in the past and just moved back [to Charleston, S.C.,] from big cities. I personally thought that phase of my life with playing music was over. I was still writing and recording, but I had kind of reached a point where I wasn't comfortable sharing it with anyone. But then I got to know Jarod, and we started skipping work and going to the beach to write music. We kind of escaped together.
P 's: When did the band go from being just a fun side thing to a serious pursuit? 
KHW: We put our first recordings up on Bandcamp in March 2013 and then got a response from a label about doing a 7-inch a week or two later. Almost as soon as we put those songs up, it became, "Oh, we're actually going to put a recording out and play a show!" I think we were surprised by the feedback from people hearing it all over the world. We were getting messages from people in New Zealand and Germany and Malaysia.
JW:  Yeah, it snowballed pretty quickly. When we first finished recording the first two songs that we did, I think we both felt a little like, "I don't know, is this good? Is this good enough to put up online, even?" We just had no idea. I think the more time has passed, the more I like the recordings, but at first we didn't know what people were going to think, so the positive response was overwhelming.
KHW: I totally forgot until Jarod said that, but I remember at first we were so scared about what the response was going to be. I think we both felt like the first songs were so poppy, and we kept thinking, "Are these cool?" We both came from punk backgrounds, which is where the power chords come from. The songs felt comfortable and everything, but we weren't sure what our peers and other people would think of them.
P 's: Were your first shows a learning curve as well?
JW: Definitely. We didn't plan on playing any shows in the beginning. Shows were off the table until our friend Kyle, who is in this really cool band from Atlanta called Places to Hide, got in touch and asked us to play a show, and Kim said okay. My reaction was like, "Oh, I didn't think we were going to play any shows!" I was surprised she was willing to. But we decided to just try it and see how the songs could come together live. We just jumped into it.
KHW: Yeah, we wrote the songs in bits and pieces. When I started playing music when I was younger, we'd all go to a garage or a room, write a song, and practice it over and over. That wasn't how Jarod and I started. Jarod would play guitar parts, and I would sing vocals over them, or he would record all the instruments and I would add the vocals later. So once we had a show, it forced us to practice the songs over and over, to write and learn new songs. It helped us become a real band.
Listen to the new Tape Waves record, Let It Go, on Bandcamp.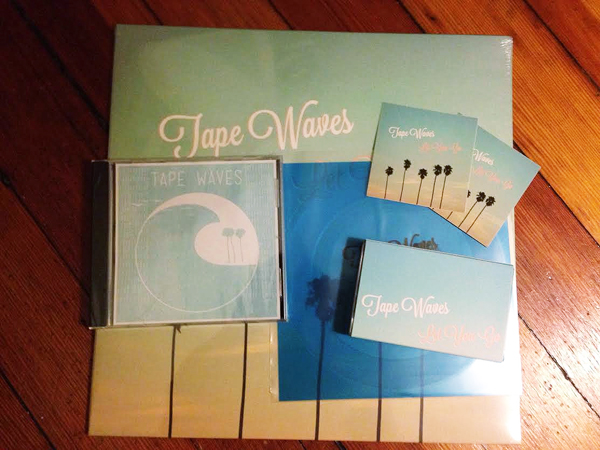 Tape Waves is generously donating a big bundle of merchandise to the charity of Broke Music Lovers. To win, in the comments below or on social media, tell us about the most boring job you've ever had.
There are two packages up for grabs:
1. A vinyl copy of Let You Go and flexi disc of the single "Hanging On"
2. Tape Waves EP on CD and Let You Go on cassette