An album's cover art is an extension of the music itself, and when done right, opening the packaging can be an experience all on its own. There's no question that the digital music revolution has diminished the value of album artwork to the average listener, but that doesn't mean artists are giving up on unique ways to wrap their physical music packages.
So, in honor of Boxing Day, let's ignore for a moment the "best music of 2014" and instead consider some of the year's best boxes and visual extras—from bonus photos to playing cards to full-fledged board games. Who says album art is dead?
Dilated Peoples – Directors of Photography
Evidence, Rakaa Iriscience, and DJ Babu are back with my favorite album of the year, so the awesome packaging is just the gilded frame around a brilliantly composed picture. The packaging for both formats follows the album's thematic and titular inspiration: the CD packaging includes a full color, custom printed Digipak with a gold foil-stamped pocket containing 20 photo inserts and full album lyrics, and the vinyl packaging includes a custom printed gatefold jacket with spot gloss finish, double transparent clear vinyl, a 2-panel insert containing full album lyrics, custom printed labels, and a free digital download card.  Allegedly, the lyrics as printed are significantly different from those on the actual release, so if lyrical accuracy is your hot button, the transcribed versions found here are the way to go.
Taylor Swift – 1989
Swift's fifth full-length release and her "first official pop album" was the best selling record of 2014, a fact that Swift partially attributes to keeping the record off music streaming sites like Spotify. But Swift gives fans another incentive to buy her physical records: the highly intricate and customized packaging that makes her buyers feel they're automatically members of her exclusive fan club. The deluxe edition of 1989 includes three extra songs, three voice memos, and not just one, but five different sets Polaroid pictures printed with lyrics (all of which you can see here).
TV On The Radio – Seeds
Love them or mildly dislike them, the new TVOTR record should have won an award for most hypnotic packaging—in fact, that award should have been created for the sole purpose of honoring this album art. The CD comes with a plastic sleeve that, when the disc is pushed in or pulled out, creates a shimmering, electric illusion of a seed pod growing and shrinking on the cover. Open it up and the CD has pictures of multi-colored sculptures made of elephant toothpaste on the gatefolds. (The artist, Julian Gross, also made a 3-D installation based on the artwork.) Confession: I like this record, and it may be my favorite of theirs so far, but I put it on my Christmas list just so I could play with the packaging.
Sloan – Commonwealth
Like the last 10 Sloan records, the band is pictured on the front of Commonwealth, but in this case, the four playing card suits symbolize the four "separate but equal" parts of the band, perhaps the most egalitarian pop-rock quartet in history. The CD and LP bundles include a 12×12 autographed print from the band and an actual set of playing cards featuring the members as kings of each suit: Jay Ferguson is King of Diamonds, Chris Murphy is King of Hearts, Patrick Pentland is King of Clubs, and Andrew Scott is King of Spades.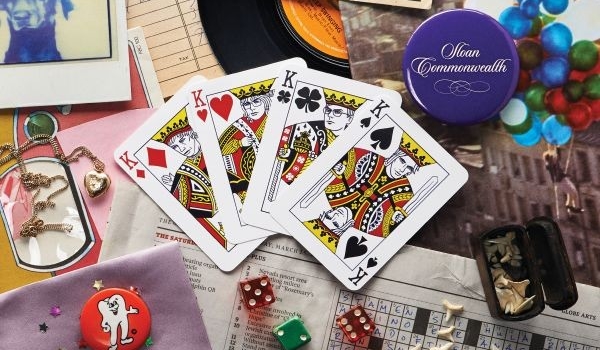 Various – Warfaring Strangers: Darkscorch Canticles
Chicago archival label The Numero Group has a reputation for over-the-top packaging, but with the compilation album Warfaring Strangers: Darkscorch Canticles—featuring rock bands inspired by Tolkien and Dungeons and Dragons—it took music packaging to an entirely new level. The label created an actual board game, "Cities of Darkscorch," to accompany Warfaring Strangers. Along with the double LP and slipcase CD featuring alternate cover art, the game allows you to role play as any of the 16 bands included on the collection and features original artwork on all the playing cards.
And if you're willing to shell out $100 for this ultimate gaming and music experience to play in your parents' basement, which is limited to 1500 copies, why not throw in an extra $5 and get the "Supa Edition," limited to just 500 copies, which features all of the above plus a bonus 7" single featuring "Animal Woman" b/w "Red Brained Woman" by LA heavy rock honchos Supa Chief, a custom-printed guitar pick (which can be used as an additional game play token), and a full color picture sleeve featuring a game board map extension, complete with its own exclusive Darkscorch city? After all, how much marijuana can you buy for $5?