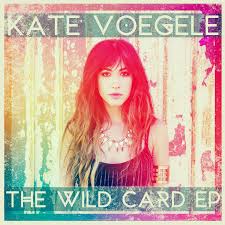 The story is not unfamiliar; a young actor finds Hollywood success and immediately explodes their name onto everything from perfume to clothing lines. This same actor spends their time hanging out in the L.A. scene and runs into Bono or buys a drink for David Bowie and decides, "Hey, I could do this music thing." The project either becomes another historical footnote like Keanu Reeves in Dogstar, or the music finds a way to transcend the actors' fame and the endeavor manages to create good music and the individual is able to create an entirely new persona like Jared Leto and 30 Seconds to Mars or Zooey Deschanel with She & Him. This is a story about an actress that many might think followed this script, but that doesn't quite fit the mold.
Unlike the Hollywood cliche described above, what happens when an actress already has an accomplished career as a musician, before achieving further success? What happens with someone like Kate Voegele? Yes, that Kate Voegele from the long-running television show One Tree Hill. Few probably know about Voegele's highly-successful music career before her four-year long run on the show from 2008 to 2011. However, by the time Voegele appeared as "Mia" on the teen drama, she had already released two full length records and was signed by MySpace Records, a division of Interscope Records.
Music had been in Voegele's blood from very early on.  In fact, she released her first record, The Other Side, in 2003, when she was just 16-years-old. That same year she found herself on stage with the likes of John Mayer and the Counting Crows. Only one year removed from her debut, Voegele was asked to perform in the 2004 Farm Aid, held in Chicago, Illinois. In 2006, she released Don't Look Away, her second full-length record.  Shortly thereafter, she became her own footnote in history as the first artists signed to MySpace Records after receiving an unsolicited message from MySpace owner Tom Anderson, who had become a fan of her sound. Voegele immediately ditched her books and went on a year long tour of the United States in support of her record, which was re-released on the MySpace label.
When Voegele appeared on One Tree Hill in January 2008, her record sales spiked, as she was often asked to play her own original material on the show.  Due to her success after her acting debut, she was "upstreamed" to the parent Interscope label and released a new full-length record, A Fine Mess.  Those two records, released under the Interscope brand, netted Voegele over $500,000 in record sales.
In 2011, Voegele signed to ATO records and released her fourth studio effort, Gravity Happens.  Voegele toured on that record through the United States, as well as Europe.

At this point, Voegele has decidedly returned to her roots as a signer-songwriter, even moving back to Nashville, where she could further develop her craft in that regard.  This Thursday, at Subterranean, Voegele, a native of Cleveland, will make another triumphant return to Chicago, as she promotes her new EP Wild Card. She will be joined by Mark Rose, formerly of Spitalfield, and Briar Rabbit, BB King's nephew, for a solid show of pop music, blended with a cool and hip singer/songwriter vibe. To those who make their way out on Thursday night, one thing will be abundantly clear, Voegele has come a long way from Tree Hill, North Carolina.