The shoegaze revival/redux can now be said to be in full flower. Following new music from My Bloody Valentine and reunion tours from Chapterhouse, Loop, Lush, Ride, Seefeel, Slowdive, and Swervedriver, there has been but one hold-out in the pantheon until now.
Sources close to 4AD founder Ivo Watts-Russell have learned the moment many dream-pop fans have dreamed of has finally happened. Cocteau Twins—the Scottish trio that pioneered a bridge between post-punk, gothic rock, and electronic, ethereal, guitar-based, shimmering pop—have reunited.
Guitarist Robin Guthrie, singer Elizabeth Fraser, and bassist Simon Raymonde have mutually agreed to reconcile the irreconcilable differences that led to the band's break up in 1997 in the interest of uniting against a common enemy: fascism.
"Cocteau Twins do not want fans who are fascists."
Guthrie allegedly told Watts-Russell, the auteur of the UK's finest purveyors of gooey shoegazey goodness, that he was inspired by seeing a short film online that purportedly shows none other than the "poster boy" of fascism himself, Adolf Hitler, declaring his love for the group.
"Just as Kurt Cobain didn't want fans who were rapists," Guthrie said (referring to the liner notes of the compilation Incesticide, in which the late lead singer disavowed fans who engaged in rape while singing the Nirvana song "Polly"), "Cocteau Twins do not want fans who are fascists, especially not Hitler."
"While the three of us no longer have anything in common aside from our love of beautiful music with unintelligible lyrics," Guthrie continued, "we are united in fighting the forces of xenophobia, which we have seen rear their ugly anti-immigration heads around the world, most recently in the USA and France, with the rise of conservative 'not in my back yard' movements and the National Front, respectively. With that in mind, we have reformed to reclaim our legacy and ensure that the music we have made in the past cannot be subverted to promote the forces of fascism."
The trio's unique sound will undoubtedly bring a fresh interpretation to the original songs, and hopefully bring fascism to its knees.
A leaked draft of a press release from the 4AD offices indicates that not only do Cocteau Twins plan on embarking on a world tour, during which they will allegedly burn the Nazi flag following renditions of fan favorites such as "Sugar Hiccup," "Lorelei," and "Iceblink Luck," but they have also been in the recording studio in their native Scotland.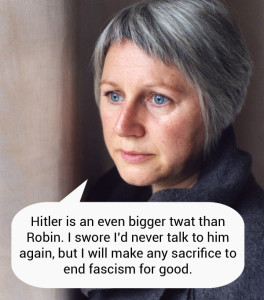 Since Guthrie and Fraser, who were once a couple (and are both allegedly recovering drug addicts), haven't communicated with each other in almost 20 years, it's fair to wonder what any "new music" might be like. Sources at 4AD have indicated that the group will overcome their lack of new material by recording a set of covers for the first time ever. The trio's unique sound, composed of Guthrie's shimmering, reverb-heavy electric guitar, Raymond's throbbing bass, and Fraser's helium-fueled, hiccuping, scat-driven soprano, will undoubtedly bring a fresh interpretation to the original songs, and hopefully bring fascism to its knees.
While the track list has not been finalized, a list of potential songs has been procured, indicating that Cocteau Twins are indeed taking their political concerns seriously. They see this release as a way to underscore their specific philosophy regarding anti-authoritarianism, kicking off with a song originally written by Guthrie's long-lost stateside cousin.
Cocteau Twins – (Title TBA) tracklist:
"All You Fascists" (Woody Guthrie)
"About a Fascist" (Agathocles)
"Make America Great Again" (Dwain)
"Fight The Fascists" (Consolidated)
"Destroy Fascism" (Heaven Shall Burn)
"Youth Against Fascism" (Sonic Youth)
"Fascism Sucks" (Thumb)
"This Machine Kills Fascists" (Anti-Flag)
"When Freedom Dies" (Nuclear Assault)
"We Are The One" (Avengers)
"Fuck Fascism" (The Oppressed)
"Janie is a Nazi" (Sloppy Seconds)
"Nazi White Trash" (Leftover Crack)
"The Day the Nazi Died" (Chumbawamba)
"Kill The Nazis" (Total Chaos)
"Nuke The Nazis" (Oi Scouts)
"The Only Good Fascist Is A Very Dead Fascist" (Propagandhi)
"They Saved Hitler's Cock" (Angry Samoans)
"Nazis Shouldn't Drive" (MDC)